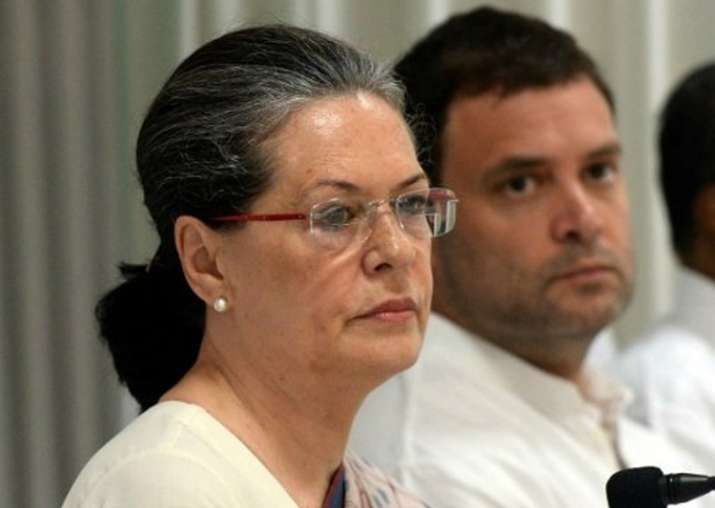 The Congress party in Gujarat on Friday suffered a major blow as four more MLAs quit the party, taking the total number who have resigned in two days to seven. Chhanabhai Chaudhary, MLA from Vansda constituency, Mansinh Chauhan from Balasinor, Ramsinh Parmar (Thasra) and CK Raolji, a legislator known to be close to rebel Congress leader Shankersinh Vaghela, submitted their resignations to Speaker Ramanlal Vora. With this, the Congress' tally has reduced to 50 in the 182-chair House.
Political sources say that Chaudhary and Chauhan are expected to join the ruling BJP. But Parmar, Chairman of Amul Dairy, said he would not do that. The developments come a day after three legislators resigned from the party and joined the BJP. 
Another senior Congress legislator, Raghavji Patel, said he too was preparing to follow suit along with some others. Patel, a legislator from Jamnagar (rural) constituency in Saurashtra, said, "I also want to go to the BJP and there are others who are also preparing for it. We are frustrated. Nobody listened to our voice and took note of our aspirations."
Besides Raolji, Patel, Chaudhary and Chauhan are also believed to be close to Vaghela, who quit as Leader of Opposition on July 21, alleging that there was an intra-party conspiracy to oust him from the Congress. On Thursday, three MLAs -- Balwantsinh Rajput, Congress chief whip and MLA from Siddhpur, Tejashree Patel from Viramgam, and Vijapur legislator PI Patel submitted their resignations and joined the BJP. Within minutes of joining the BJP, Rajput was named the party's third Rajya Sabha candidate.
BJP using 'money, muscle, state power': Congress
The desertion of MLAs from the Congress Legislature Party is worrying for the party ahead of the Rajya Sabha polls on August 8, especially in view of leader Ahmed Patel's bid for the Upper House. Patel is Congress president Sonia Gandhi's political secretary who has filed papers seeking a fifth Rajya Sabha term from the state.
Meanwhile, Congress spokesperson Abhishek Singhvi accused the BJP of horse-trading in Gujarat and using 'money, muscle and state power' to engineer defections ahead of the crucial Rajya Sabha polls. Stating that the party is keeping all options open, Singhvi warned the MLAs of serious consequences of anti-defection law that can lead to disqualification from contesting elections up to six years. 
"Crores of rupees have been spent in horse-trading in Gujarat by the BJP. You have seen this naked drama.... The policy of the BJP in Gujarat is - by hook or by crook, come to power by breaking all laws," he said, adding "If the MLAs think they cannot come under the anti-defection law, they are mistaken. If found guilty under the law, they face future disqualification of six years."
Sonia, Rahul unable to hold 'sinking ship' Congress: BJP 
The BJP, on the other hand, said that the decision of senior Gujarat Congress leaders to quit the party shows that it is a 'sinking ship' as its chief Sonia Gandhi and her deputy Rahul are unable to hold the crumbling organisation. Union minister Ravi Shankar Prasad lashed out at the Congress over its allegation of horse-trading against his party, wondering if it suggested that it had given important position to leaders who could be purchased. 
"The entire allegations of the Congress that the BJP is doing horse-trading in Gujarat is not only false and laughable but shows its utter desperation. A senior leader like Shankersinh Vaghela, former chief minister and the leader of opposition, has left the Congress. Three-time MLA and its chief whip Balwantsinh Rajput has left it too. Eminent doctor and its whip Tejashreeben Patel has left it. Does the Congress want to suggest that it has given important positions to such leaders who could be purchased?" Prasad questioned. 
The allegations showed the "utter political bankruptcy" of the Congress and the fact was that it was a "sinking ship" and all these leaders were deserting it because they were not getting respect and their due, he said adding it was wrong to blame the BJP for it. The fact is that the Congress has become the biggest "patron and promoter of corruption" which was causing extreme disillusionment among its supporters and cadres, Prasad alleged. 
Of the total 11 Rajya Sabha members from the state, the term of three – Smriti Irani and Dilipbhai Pandya (both BJP) and Ahmed Patel -- is ending on August 18.