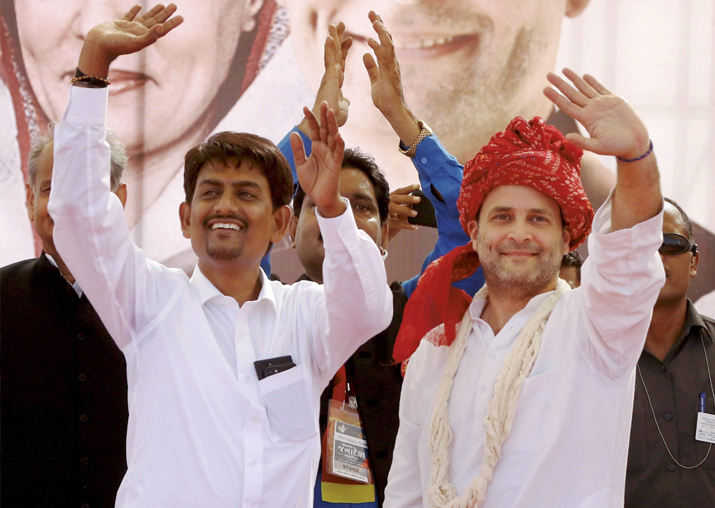 Congress vice president Rahul Gandhi today launched a blistering attack on the Narendra Modi government over its decisions of demonetisation and Goods and Services Tax (GST) which he said have harmed the country's financial health most. 
Addressing a gathering of thousands of supporters of young OBC leader Alpesh Thakore, who heads Thakore Sena, in Gandhinagar, he said that government has failed drastically in generating jobs and accused it of focusing on helping just the industrialists. 
"Modiji talks of Make in India. In Gujarat alone there are 30 lakh unemployed youth. Everyday 30,000 people across the country enter the job market. But only 450 people get jobs," he said. 
On GST, he said that 'one nation, one tax' was the Congress' idea but the government compromised with its fundamental principles. 
"GST was our thinking. We brought it, it was a thought of single tax of 18 per cent across the nation with less forms to be filled," he said.
The Congress leader also took a dig at Finance Minister Arun Jaitley for rejecting Congress recommendation of cutting tax slabs. 
"But they said that they will do it in the same way they did it with demonetisation with all celebrations at midnight. Now there is a GST with 28 per cent tax and three return forms. Now GST has become a gabbar singh tax," he said, punning on the name of famous Bollywood villain in "Sholay".
Rahul further accused the Prime Minister of destroying the entire economy with his one decision to scrap Rs 500 and Rs 1000 notes.
"What happened on November 8? Modiji came on television and said I don't like Rs 500 and Rs 1,000 notes. So I have decided to spike them from that midnight. And by doing that he attacked the whole country by one stroke. For the first two three days he too did not understand what has happened. And in a concert in Mumbai he announced 'I have done this'. But after five-six days he realised he made a mistake. Then again he appeared on television and said if I don't end the menace of black money by December 30 then hang me."
Rahul then asked farmers in the crowd if they buy seeds and fertilizers from their mobile phones and with cheques. The crowd replied with a loud 'No'.
Attacking the 'Make In India' slogan of the Prime Minister, he said, "It was Chinese goods everywhere in the country. The government has to give employment to youth. India's competition is with China. Should employment go to China or come to India?"
"Most of the products you use have the label of Made in China. Whether it is a shirt, cameras or anything else. When you click selfies or press a button for a picture, a Chinese youth gets employment," he added.
Rahul also asked Modi to break his silence on BJP president Amit Shah's son Jay whose business fortunes allegedly sky-rocketed after the NDA came to power.
Referring to an allegation by Narendra Patel, a Patidar leader close to Hardik Patel, that a bribe of Rs 1 crore was offered to him to join the BJP, Rahul said the priceless voices of Gujarat can neither be stifled nor bought.
"Alpesh ji you asked these people to remain silent. But how they can remain silent. Modiji has harassed them a lot and that is why they cannot remain silent. Even Hardik, Jignesh Mewani, (a Dalit leader), cannot remain silent. They too have a voice. And this is no ordinary voice. It cannot be suppressed or bought. Whether they give Rs 1 crore, Rs 100 crore, Rs 1,000 crore or India's total budget or the wealth of the world. The voice of Gujarat cannot be bought or suppressed," he said. 
The Congress today got a boost with Alpesh joining it in the presence of Rahul. The grand old party is out of power in the western state from last 22 years.
Gujarat will go to polls later this year. The tenure of the present Gujarat Assembly (182 seats) ends on January 22, 2018.