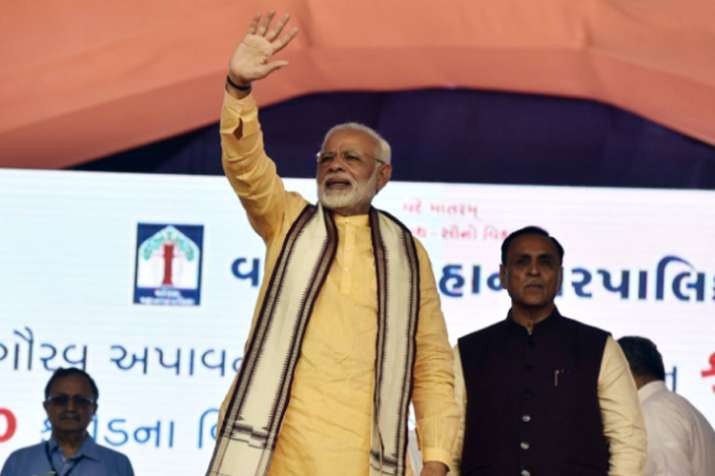 Prime Minister Narendra Modi on Sunday inaugurated a Rs 650-crore roll on-roll off (Ro-Ro) ferry service that reduces travel time by six hours between Saurashtra and South Gujarat in the election-bound state. Addressing a gathering here after the inauguration, Modi said that his government has given a new mantra "P for P" -- implying ports for prosperity. 
Highlighting the importance of waterways, Modi said goods can be transported through waterways at a cost of 20 paise per tonne, while it will take Re 1 through railways and Rs 1.5 by road. 
The PM also blasted the Congress saying the previous Congress-led government in the Centre had stalled all Gujarat development projects by creating procedural hurdles in the name of environment. He said this had changed since he took power in Delhi and gave importance to the Gujarat development. 
Here are the highlights of PM Modi's Gujarat visit:
Vadodara, Gujarat: Prime Minister Narendra Modi leaves for Delhi pic.twitter.com/Wgstxix8B4

— ANI (@ANI) October 22, 2017
06:20 pm: 
#Gujarat: Prime Minister Narendra Modi's roadshow underway in #Vadodara pic.twitter.com/d3Uqii37vP

— ANI (@ANI) October 22, 2017
05:59 pm: 31st October we mark the Jayanti of Sardar Patel. Like in the previous years, there will be a 'Run for Unity.' Let us take part in this and urge others to join, says PM
05:51 pm: 
Lekin main unko kehna chahta hun ki unko Election Commission par ungli uthane ka koi hakk nahi hai: PM Modi in Vadodara

— ANI (@ANI) October 22, 2017
05:50 pm: 
Diwali mein Vadodara kyun aya hun is par logon ko pet mein dard hai. Mujhe toh kuch keh nahi sakte isliye EC par dabaav bana rahe hain: PM pic.twitter.com/BU3CyKnTnq

— ANI (@ANI) October 22, 2017
05:46 pm: Since I was a child I was hearing about a ferry service from Ghogha to Dahej. It was not done all these years because development was never a priority for them. When we got a chance to serve we focussed on all-round development and the ferry is operational today.
05:44 pm: Each penny of public money will be used for development, will not give single penny to those opposing development: PM
05:43 pm: If you scan the newspapers before May 2014 you will see continuous mentions about the record corruption in various sectors: PM 
05:35 pm: We are clear in our working. All our resources will be spent towards the wellbeing of every citizen. Our priority is development: PM
05:31 pm: 
PM Shri @narendramodi digitally lays foundation of the Capacity Expansion Project of HPCL's. https://t.co/xXs9tvfKb7 Audio 02245014501 pic.twitter.com/2ZJ6L3hS1z

— BJP (@BJP4India) October 22, 2017
05:30 pm: The scale of development works of Rs. 3650 crore being inaugurated in Vadodara today is unprecedented, says PM
05:16 pm: PM Modi lays foundation of housing schemes for 3,000 beneficiaries; inaugurates 2,500 ready units of Gujarat Housing Board reports Aditi Raja.
05:10 pm: PM Modi lays foundation of Rs 225 cr 3.1 km flyover from Genda Circle to Manisha Junction; which is touted to be state's longest.
05:07 pm: PM Modi digitally inaugurates and lays foundation of Rs 1,140cr projects of VMC; includes Jan Mahal transportation hub, reports Aditi Raja.
03:21 pm: Khoj-khoj kar files nikalwa raha hun aur jo pariyojanayein dashakon se atki hui hain unhe pura karwa raha hun: PM
03:16 pm: We believe Sagar Mala project alone will provide around 1 Crore jobs: PM Narendra Modi in Dahej
03:14 pm: Our focus is on the blue economy. We see the blue economy as integral to our vision of a new India: PM
03:10 pm: Without proper connectivity, the economic development of a nation slows down. Keeping this in mind we are focussing on ports infrastructure
03:08 pm: Our vision is ports for prosperity. India needs better ports and more ports: PM
12:53 pm: Sadly, our transport sector was not integrated enough. We have changed that in the last three years. The goal is to make our transport sector integrated and state of the art: PM Modi
12:44 pm: This ferry service will not be restricted to this one route. We are planning to link other places also through ferries: PM Modi
12:36 pm: Gujarat is blessed with a long coastline and we should harness opportunities arising due to this. We took steps in developing coastal infrastructure: PM Modi
12:30 pm: Efforts were made to stall industries and the state's growth. Over the last three years we have changed that and given importance to the development of Gujarat: PM Modi
12:27 pm: When I was the Chief Minister of Gujarat, the Central government of the time tried to stop all development in the state in the name of environment protection: Modi 
12:26 pm: This ferry service connects Saurashtra and South Gujarat...people from these regions frequently travel to and fro: PM Modi
12:25 pm: Imagine how much time and petrol this ferry service will save: PM Modi
12:24 pm: Gujarat is the land of Lothal. How can we forget these aspects of our history. This programme is to bring back to life our glorious past, connect Saurashtra & South Gujarat: PM 
12:23 pm: The history of human civilisation illustrates the vitality of rivers and maritime trade: PM Modi
12:21 pm: I urge people to explore opportunities in animal husbandry: PM Modi 
12:20 pm: I am also here with regard to a project in dairy sector, a sector to which we have given immense importance over the last two decades: PM Modi  
12:19 pm: This ferry service is a first of sorts. Its a dream come true for people of Gujarat: PM Modi
12:13 pm: I am happy to be in Gujarat to personally convey new year greetings: PM Modi
12:14 pm: This programme may be for a ferry between Ghogha and Dahej but this programme is of vital importance for the entire nation: PM Modi
12:10 pm: PM Modi inaugurates Ghogha-Dahej Ro-Ro ferry service in Bhavnagar
11:34 am: Prime Minister Narendra Modi arrives in Ghogha to launch the RO-RO ferry service
11:14 am: PM Narendra Modi arrives in Bhavnagar, received by Gujarat CM Rupani and Deputy CM Nitin Patel
09:48 am: In Vadodara, PM Modi will also inagurate a Rs 160 crore multi-modal city transport hub, Rs 267 crore waste-to-energy processing plant. 
09:47 am: Modi will dedicate to people a Rs 125-crore Janmahal city transport hub and multi-level parking (under PPP) in Vadodara.
Also Read: What is PM Modi's 'dream project' Ro-Ro ferry service: 10 points
09:46 am: In Vadodara, PM will dedicate to the nation the Rs 100-crore Vadodara City Command Control Centre and Waghodiya Regional Water Supply Scheme.
09:45 am: From Dahej, Modi will leave for Vadodara, where he is scheduled to inaugurate and lay the foundation stones for projects worth over Rs 1,140 crore. 
09: 45 am: PM Modi will address a gathering in Ghogha and undertake a journey to Dahej from Ghogha on the ferry.
09:44 am: Ghogha-Dahej ferry will reduce travel time & also enable movement of vehicles. This project will further Gujarat's development, tweets PM Modi
09:43 am: Today is special because Phase 1 of the ferry service between Ghogha & Dahej would be inaugurated: PM Modi