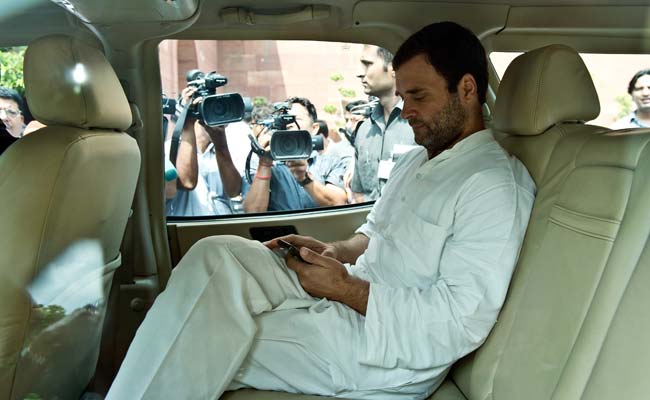 Congress Vice President Rahul Gandhi today dubbed the implementation of GST as a "tamasha", saying that just like demonetisation, the tax reform is being executed by an "incompetent and insensitive" government without "planning foresight and institutional readiness." 
Gandhi, whose party has boycotted tonight's GST launch event in the Parliament, hit out at the government in a series of tweets, saying the reform was being rushed through in a "half-baked" manner as a "self-promotional spectacle". 
"A reform that holds great potential is being rushed through in a half-baked way with a self-promotional spectacle #GSTTamasha," Gandhi, currently abroad on a holiday, wrote on his Twitter account. 
"India deserves a GST rollout that does not put crores of its ordinary citizens, small businesses and traders through tremendous pain  and anxiety," the Congress leader said. "Unlike demonetisation, GST is a reform that the Congress has championed and backed from the beginning. But like demonetisation, GST is being executed by an incompetent and insensitive Govt without planning foresight and institutional readiness."
Gandhi's tweets come a day after the Congress announced its boycott of the midnight GST launch event by the government at the Central Hall of Parliament tonight. 
The Congress is boycotting the event on grounds that a taxation reform could not be equated to midnight celebrations of Indian Independence the Central Hall has seen on August 15, 1947, and later, on 50 years of freedom in 1972 followed by the celebration of the Golden jubilee of Independence in 1997.