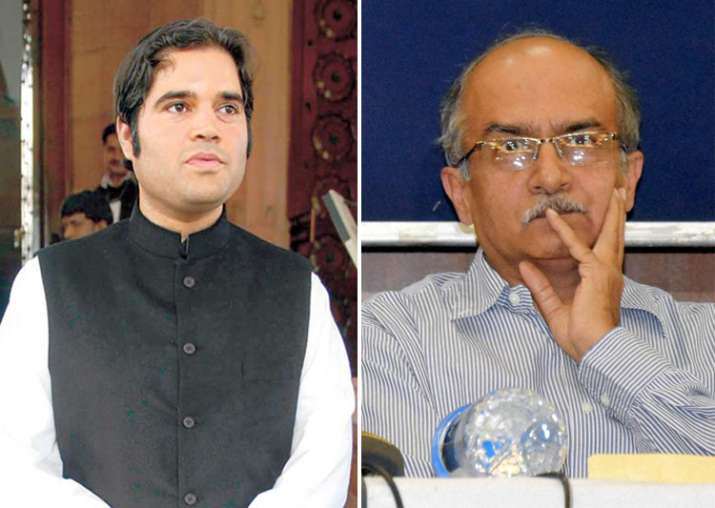 Senior Supreme Court lawyer and leader of the newly formed Swaraj Abhiyan Prashant Bhushan has questioned the government for its alleged inaction in the matter of a Bharatiya Janata Party leader's alleged involvement in the leak of sensitive defence documents, claiming that the government was in the know but kept quiet fearing that any adverse action could jeopardise the Rafale jets deal.  
BJP MP Varun Gandhi was today at the centre of a controversy over allegations that he was "honey trapped" by disgraced arms dealer Abhishek Verma and was forced to leak defence secrets, a charge he stoutly denied.
According to Swaraj Abhiyan leaders Bhushan and Yogendra Yadav, US-based whistleblower C Edmonds Allen had written to Prime Minister Narendra Modi's office regarding the leaks.
Bhushan and Yadav released the letter written by Allen, a New York-based lawyer, to the PMO last month that Varun was "honey trapped and compromised" by Verma.
Allen, in the letter dated August 25, 2016, alleged that Verma "blackmailed" Varun, then a member of the Defence Consultative Committee, into sharing sensitive information on crucial arms matters.
This letter of 25/8/16 to PM,RM, NSA gave evidence against Thales middleman also behind Navy war room leak. No action. Instead Rafale deal! pic.twitter.com/gMlw12zwFD

— Prashant Bhushan (@pbhushan1) October 20, 2016
This letter from CBDT to Dir CBI, soon after Modi govt came,details many nefarious deals of Scorpene middleman Verma. Yet no action on this! pic.twitter.com/mLPxCilqYI

— Prashant Bhushan (@pbhushan1) October 20, 2016
Varun rejected these charges, saying he has not met Verma since 2004 and threatened to file a defamation suit against Bhushan and Yadav over the charges.
Speaking to India TV, Bhushan claimed that defence middlemen have a network of compromised defence officials which they have achieved by honey-trapping them through escort services and prostitutes. 
When asked if the allegations did not amount to character assassination of the BJP MP, Bhushan said that Ellen has enclosed evidence in his letter to the PMO which he does not wish to make public. 
On the threat of defamation case by Gandhi, Bhushan said he would be happy to publish remaining evidences if the MP files a criminal defamation case. 
The Supreme Court lawyer further questioned the government's motive behind its silence and questioned why it did not act on the matter despite being in the know of the entire issue. 
Bhushan alleged that despite having all the details, BJP government did not blacklist Thales, the company that sold scam-tainted Scorpene submarines, as Dassault acquired it. Allen, who was a partner of Verma, fell out with him in 2012. Verma is facing trial in the 2006 Naval War Room leak case and is currently out on bail.
"This goes beyond sleaze. This government has knowingly done nothing. On May 30, 2014, the CBI Director was informed by the current Chief Vigilance Commissioner about huge instances of corruption. Yet no FIR was registered," Bhushan said 
"Allen's details show even Verma's wife boasted about being a middleman for many naval projects," he said.
Yogendra Yadav claimed the PMO had "solid evidence" for two months that till 2011, Verma had all access to army secrets but did not act because of two reasons. 
"One was because their MP (Varun Gandhi) who was in defence committee was in cahoots with the dealers. Second, if the BJP acted, they would have had to blacklist Thales which was also there for the French Rafale aircraft deal. So it would have hurt the Rafale deal," he said.
India recently signed a deal with Dassault for 36 Rafale aircraft.
"Any action against Thales may have jeopardised the Rafale deal. Moreover, contrary to previous announcements of getting 126 aircrafts, the government bought 36 aircrafts, paying double the price for individual units. It certainly appears to be the case that something is fishy," Bhushan said.
However, Bhushan and Yadav did not take Varun's name during the press conference and instead asked journalists to refer to the letter. They claimed to have withheld photographic evidences pertaining to the matter.
The letter is also marked to the Defence Minister Manohar Parrikar and the National Security Advisor Ajit Doval to "help them to identify if any other members of the defence consultative committee or their staff are compromised by the likes of Abhishek Verma". 
Edmonds Allen was earlier an escrow agent for Abhishek Verma and had shared several hundred documents with Indian authorities in 2012 that led to several cases being registered against the arms dealer, including one under the Official Secrets Act (OSA), as sensitive defence ministry documents were leaked. 
Denying all the charges, Varun issued a statement saying that "the entire information presented does not contain an iota of proof that either I had access or shared any communication regarding sensitive information to Verma."
Meanwhile, Varun today rejected these charges, saying he has not met Verma since 2004 and threatened to file a defamation suit against Bhushan and Yadav over the charges.
"I am going to turn 37 now. I have never met him since I entered public life in 2004. The only reason why I even know of him is because his parents were members of parliament and was a respected family. I knew them as many other leaders knew them," he said.
Varun said that he last met Verma when he was a post graduate student in London at the age of 22 years.
Asked if he had come across any sensitive information during his tenure on the consultative committee on defence, he said, "Any MP who has been on that committee knows that not even 0.1 percentage of any confidential information is shared with the committee."