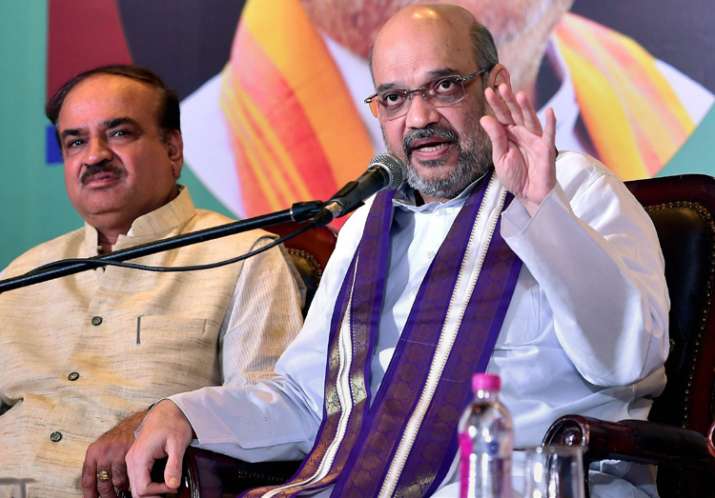 As the Uttar Pradesh government led by Chief Minister Yogi Adityanath came under intense criticism over the death of over 60 children at the Baba Raghav Das (BRD) Medical College and Hospital in Gorakhpur, Bhartiya Janata Party (BJP) chief Amit Shah today attempted to play down the tragedy saying such "accidents" have taken place in the past as well. 
"The incident is an accident. The Uttar Pradesh government is currently investigating it. Chief minister Yogi Adityanath has ordered a time-bound probe as well," Shah said at a press conference in Bengaluru on Monday. "It was a mistake...it might have happened at any stage." 
"We won't spare the guilty. We will fix accountability," he said. 
He rejected the demand of resignation of Chief Minister Yogi Adityanath and said, "Congress' only job is to demand resignations. In such a huge country, a lot of tragedies have occurred. This is not a first such incident." 
Responding to another query, Shah said that the BJP does not fix anyone like Congress does without conducting proper enquiry.
Over 60 children have reportedly died at BRD Medical College Hospital since August 7, many allegedly for want of oxygen whose supply was disrupted after bills were not paid to the vendor. Yogi Adityanath yesterday warned of "exemplary" action against those found responsible for the horrifying tragedy amid calls for his resignation.
The government, however, has stuck to its official line that the deaths did not occur due to disruption in oxygen supply. 
Ousted from power in the state by BJP, the Samajwadi Party today staged protests against the government in different parts of the state, targeting government over its failure to prevent deaths. Former Chief Minister and SP chief Akhilesh Yadav today visited Gorakhpur to meet bereaved families.
Meanwhile, the National Human Rights Commission (NHRC) today sent a notice to the state government over the deaths, observing that it indicated "gross callousness" on part of the health administration. 
The NHRC asked the state Chief Secretary to submit a detailed report in four weeks on the steps taken for relief and rehabilitation of the affected families as well as the action taken against the guilty officers.