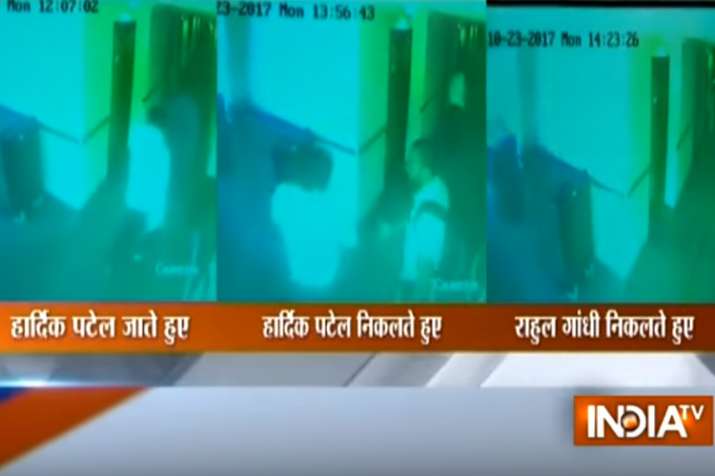 While Patidar leader Hardik Patel has been denying meeting with Congress vice president Rahul Gandhi, a new CCTV footage from a five-star hotel of Ahmedabad contradicts his claim. 
The CCTV footage clearly shows Hardik Patel entering room number 224 of Ummed Hotel at 12:07 pm and coming out of it at 01:56 pm. This is being said that both leaders met in the room no. 224 in the hotel.
He can then be seen talking to another person in the lobby area, who then goes back to Room no. 224. Another man then can be seen handing over something (probably some papers) to Hardik, who give them to his aide. 
Now the question arises whether Rahul Gandhi was in that room at that time. The answer comes after seeing the footage for another half an hour when Rahul Gandhi can be seen coming out of the room at 02:23 pm. The CCTV footage confirms Hardik Patel meeting with Rahul Gandhi.
Hardik, however, once again denied that he met with the Congress leader and wondered how CCTV footage of the hotel, where they were staying, got leaked. He said that he was considering legal action against those who were behind the leaking of the footage. 
Dinesh Patel, an aide of Hardik, told India TV that the Patidar leader had met Rahul Gandhi's personal assistant (PA) and Congress' in-charge for Gujarat Ashok Gehlot. 
The 24-year-old Patidar leader had on Tuesday said that he had met Gehlot but denied reports of a meeting with Gandhi. In a tweet, Patel said that he will make the news public whenever he meets the Congress vice president.
"I did not meet Rahul Gandhi but whenever I will meet him, will go to meet him after declaring it to whole Hindustan. We will meet during his next Gujarat visit. Bharat Mata Ki Jai," Hardik Patel tweeted.