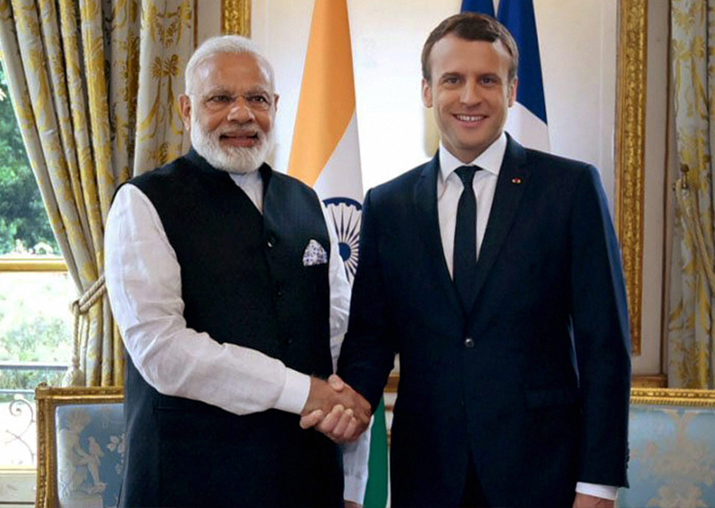 French President Emmanuel Macron will embark on first visit to India in December during which he will take part in the International Solar Alliance (ISA) Summit. According to a government official, Prime Minister Narendra Modi will also be present at the founding ceremony of the ISA due to take place here on December 8.
The institutionalisation of the Gurugram-headquartered ISA, an Indo-French initiative started in 2015 as an inter-governmental agency, will be the highlight of the second global renewable energy investors meet and expo -- RE-INVEST 2017 -- to be organised here by the New and Renewable Energy Ministry over December 7 to 9.
The ISA is an India-led initiate which has the backing of around 121 solar-rich countries to tackle energy issues. It will come into effect with the adoption of a legal instrument. 
The International Solar Alliance was launched in 2015 by Indian PM PM Modi and the then French president Francois Hollande in the presence of former UN Secretary General Ban Ki-moon. 
The formal founding of the ISA follows ratification of membership by the minimum 15 member states, for the body which has a prospective membership of more than 120 countries. The Pacific island Kiribati on Thursday became the 41st member to join the ISA, with a government minister from the country signing the accession papers here at the event.
Around 125 ministerial delegations are expected to attend RE-INVEST 2017, where the government aims to leverage India's unique position as both a major consumer and manufacturer of renewable energy to attract investment.
The conference-cum-exhibition plans to consolidate on the gains of the previous one which yielded investment commitments of Rs 4 lakh crore for creating clean energy capacity of 78,000 MW, officials here said. The Indian government has set a target of 175 gigawatt of renewable energy capacity by 2022.
Meanwhile, France's Ambassador to India Alexandre Ziegler said that Macron will also hold official talks with Prime Minister Narendra Modi during his stay between December 8 and 10. 
The Prime Minister had met Macron, who at 39 is the youngest President in France's history, during his visit to Paris in June. 
France is India's 9th largest investment partner. It is also a key partner in India's development initiatives in areas like defence, space, nuclear and renewable energy, urban development and railways.