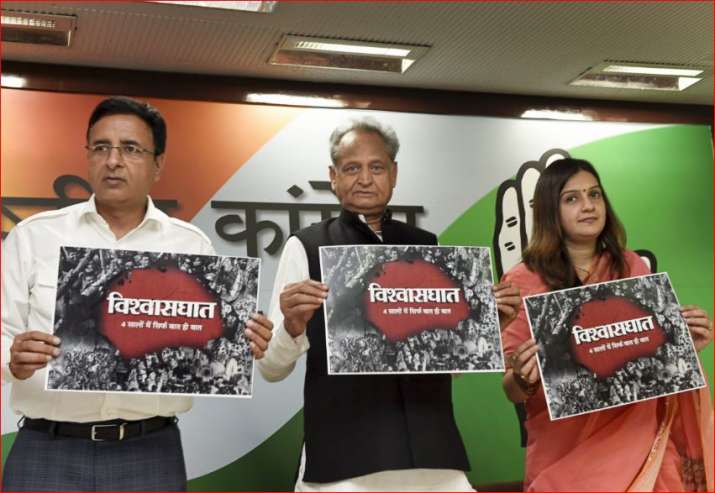 The Congress on Wednesday announced that it will observe May 26, the day Narendra Modi took over as Prime Minister in 2014,  as the day of "betrayal" along with other opposition parties.
Talking to media persons, Congress leader Ashok Gehlot said that the party will launch country-wide protests on May 26, adding the theme of the protests would be "India betrayed" and the opposition would focus on the government's alleged failure to live up to its promises.
The party also released a poster titled "Vishwasghaat, char saalon main sirf baat hi baat" or "Betrayal, the four years full of hot air".
Gehlot further said that opposition parties "as you saw in Karnataka" would come together with the Congress to expose the Modi government.
"The situation in the country is such and all sections of society are so unhappy that the people will force every party in the country to come together to defeat Modi and the BJP."
Gehlot said the Congress would organise protests across the country on May 26 to demonstrate how people have lost their trust and were feeling betrayed by the "fascist and corrupt" government.
"Four years ago, many promises were made by Narendra Modi. People trusted him. But he betrayed the people. Farmers, youth, traders, women, everyone now feels betrayed. The Congress will raise its voice for the various sections of society that feel betrayed by the Modi government.
"There is sense of fear and mistrust among people. Their trust has been broken. Fuel prices are sky-rocketing. This is a loot. They (the government) don't even care about it," Gehlot said in a press conference with Congress spokesperson Randeep Surjewala.
He said the Congress would also raise issues that have "deeply troubled" the common man.
(With PTI inputs)