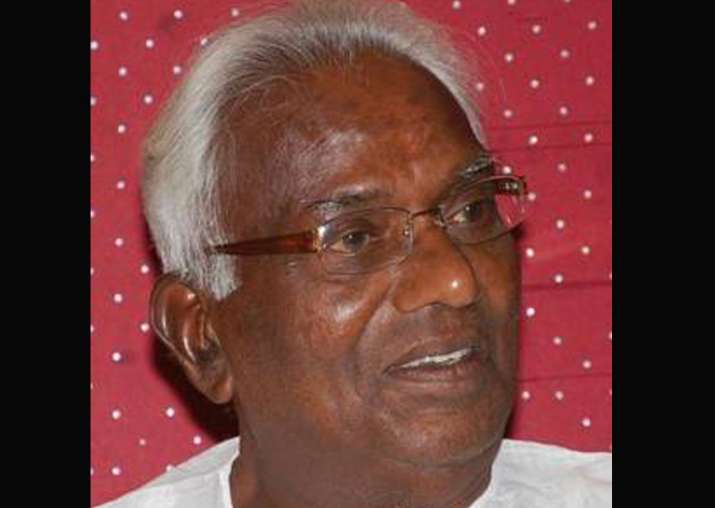 Former Union Minister P Shivshankar, a Nehru-Gandhi family loyalist who quit Congress in his twilight years, passed away here on Monday after prolonged illness. He was 88.
Shivshankar breathed his last at his residence in Jubilee Hills.
A prominent backward classes leader who also served as Governor of Sikkim and Kerala, Shivshankar was suffering from old age-related health issues, his son Vinay Kumar told PTI.
Born on August 10, 1929, at Mamidipalli in Ranga Reddy district, Shiv Shankar served as a minister in Indira Gandhi and Rajiv Gandhi governments.
Congress President Sonia Gandhi and party vice president Rahul Gandhi  condoled the demise saying it is a big loss to the party and the nation. 
"Sincere condolences on the passing away of former Union Minister Shri P Shiv Shankar. A veteran leader & a distinguished legal mind he served the nation with courage & commitment. His loss will be deeply mourned," Rahul Gandhi said.
In a letter to Shivshankar's son Vinay Kumar, Sonia said she was deeply grieved at the passing away of Shivshankar, who worked closely with Indira Gandhi and Rajiv Gandhi. 
"His life in politics was marked by his dedication to public service and his deep commitment of the aspirations of the people of Andhra Pradesh," she said. 
Shivshankar served as a Judge in the then Andhra Pradesh High Court, but resigned from his job and practised law in the High Court and Supreme Court, he said.
He successfully handled cases related to the Emergency on the request of Indira Gandhi and gained her confidence. He was considered as one of the key advisers of the former Prime Minister.
Shivshankar won as MP from Secunderabad Lok Sabha seat in 1978 and again in 1980. He served as Union Law Minister in 1980 and also as Minister for Energy.
The senior leader played an important role in Congress' affairs as well. After the assassination of Gandhi in 1984, amid doubts expressed by some, Shivshankar felt her son Rajiv Gandhi could become the Prime Minister.
He lost narrowly from Medak Lok Sabha constituency, which was earlier represented by Gandhi. He was, however, elected to Rajya Sabha from Gujarat and held important portfolios like the External Affairs, HRD, Commerce and Planning in Union Cabinet.
He served as Leader of the House in Rajya Sabha and also as Leader of Opposition in the Upper House.
In 1998, he was elected to Lok Sabha from Tenali in Coastal Andhra Pradesh.
Shivshankar was seen as a critic of former Prime Minister P V Narasimha Rao, particularly after the demolition of disputed structure at Ayodhya in December 1992.
Shivshankar, however, ended his long association with the Congress in 2004 after being denied a ticket.
He tried to revive his political career in 2008 by joining Praja Rajyam Party (PRP) floated by Telugu actor Chiranjeevi.
However, as PRP suffered huge defeat both in Lok Sabha and assembly elections and later merged with the Congress, Shiv Shankar's political career had almost come to an end. He subsequently stayed away from politics due to old age and illness.
His son and Congress legislator P. Sudhir Kumar died of illness in 2002. Sudhir was kidnapped by Maoists from his house in Hyderabad in 1991. Sudheer was set free after about a week allegedly in exchange for the release of three Naxal leaders.
Born in Hyderabad as one among 11 children, Shivshankar ran away from home as he could not continue studies and reached Amritsar, Vinay said.
He did shoe-polishing in Amritsar, but educated himself.
He returned to Hyderabad and joined as PA to then Mayor of the city before becoming a High Court Judge, he added.
Telangana Chief Minister K Chandrasekhar Rao, State Congress President N Uttam Kumar Reddy and several other leaders condoled the death of Shivshankar.
(With PTI inputs)