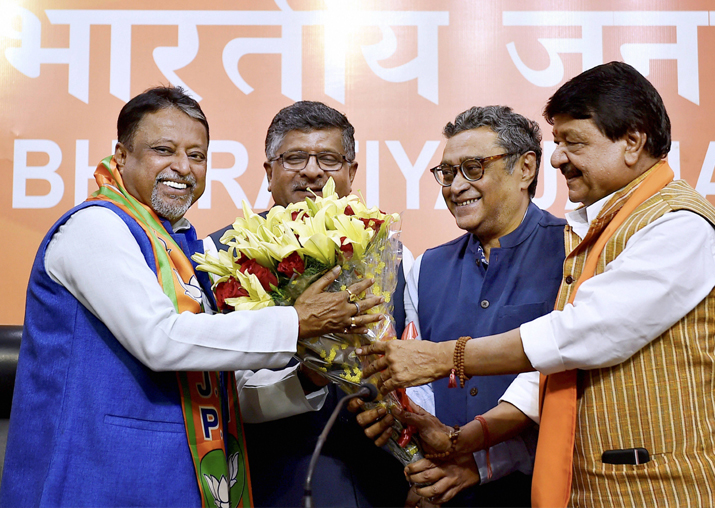 Former Trinamool Congress leader Mukul Roy today joined the Bharatiya Janata Party in the presence of Union Minister Ravi Shankar Prasad.
Addressing the media here, Prasad said, "We are happy to inform that Mukul Roy is joining BJP, we welcome him. His experience will benefit us surely I believe."
Roy thanked Prime Minister Narendra Modi and BJP president Amit Shah for showing confidence in him. 
Describing the BJP as a secular party, he said that the TMC would not have tasted success without the backing of the saffron outfit at the national level in its initial years.
"The TMC had in 1998 fought the Lok Sabha polls with the support of the BJP. TMC supremo Mamata Banerjee had made her way to the Lok Sabha with the BJP's backing," he noted.
The former Union minister exuded confidence that the BJP will emerge victorious in West Bengal in the next state assembly polls.
"In near future, the BJP will grab the power in West Bengal," he said. 
#Delhi: Former TMC Leader Mukul Roy who joined BJP today meets BJP President Amit Shah, Railway Minister Piyush Goyal & others also present pic.twitter.com/bNnTQPyYl6

— ANI (@ANI) November 3, 2017
Roy had resigned from the Rajya Sabha and quit the TMC earlier this month. 
Last month, he was suspended from the TMC for six years for indulging in "anti-party activities" after he had announced on September 25 that he would quit the party.