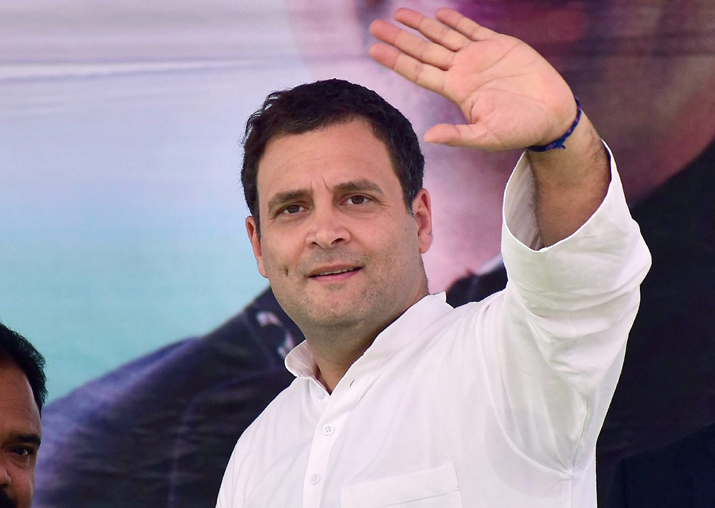 Dismissing Prime Minister Narendra Modi's statement that strict action would be taken in the PNB fraud case, Congress President Rahul Gandhi today asked him to first explain how the money was taken away from the bank under his nose.
"A scam of Rs 22,000 crore happens, Nirav Modi runs away with Rs 22,000 crore from Indian Banks and Modiji (Prime Minister) says action will be taken," Gandhi said addressing a rally in poll-bound Karnataka.
"Action will be taken? You first make us understand how did Nirav Modi take Rs 22,000 crore from Indian banks under the nose of Narendra Modi's government," he said.
He demanded to know why the Finance Minister and Modi  "allowed this to happen".
At a women's rally in Tikota, Gandhi questioned Modi's silence over the Rafale fighter jet deal and attacked him over the Nirav Modi issue, also asking why Vijay Mallya and Lalit Modi are still in London.
"Modi ji should also make us understand why Vijay Mallya and Lalit Modi are sitting in London. Someone takes Rs 10,000 crore, someone takes Rs 15,000 crore and some one takes Rs 22,000 crore, and the Prime Minister of the country does not do anything," he said.
"But when farmers of India asks for loan waiver of Rs  50,000 or Rs one lakh, Narendra Modi ji does not answer," he added.
Breaking his silence over the Rs 11,400-crore fraud at India's second-biggest PSU bank, Modi yesterday warned of strict action against those involved in financial irregularities and said loot of public money would not be tolerated.
Rahul Gandhi has, however, been claiming that the size of the fraud is Rs 22,000 crore.
During his speech, Gandhi repeatedly quoted 12th century social reformer Basaveshwara from Karnataka, revered by the dominant Lingayat/Veerashiva community which is predominantly present in northern parts of the state, to attack Modi.
He said Basaveshwara had said five things -- "don't indulge in theft, don't indulge in violence, do not lie, do not boast about yourself and don't spread anger."
"First one was don't indulge in theft. Narendra Modi says that the Congress party government in Karnataka is corrupt. When he says it, on his right side is his Chief Ministerial candidate Yeddyurappa who had gone to jail, on the other side four more ministers who had gone to jail," Gandhi said.
The Congress president said that Modi, who gives "long speeches", was quiet on the Rafale deal.
"He (Modi) banned the notes, implemented Gabbar Singh Tax and destroyed lakhs of businesses, but Jay Shah's (BJP President Amit Shah's son) business within three months converts from Rs 50,000 into Rs 80 crore. On this Narendra Modi does not speak anything."
At the women's rally, Gandhi said his party would get the women's reservation bill passed in Parliament "once it comes to power at the Centre."
Gandhi also asked the party's Karnataka unit to ensure that more women aspirants get tickets during the coming assembly elections in the state.
"We worked towards ensuring reservation for women in Panchayatraj; we had brought a bill aimed at providing reservation for women in Parliament, which the BJP has not implemented till today," Gandhi said.
He said "once the Congress party government comes to power in Delhi, it will do and show you women's reservation in Lok Sabha and Rajya Sabha."
Gandhi is touring parts of north Karnataka as part of his second leg of campaign in Karnataka, where elections are expected in April/May.