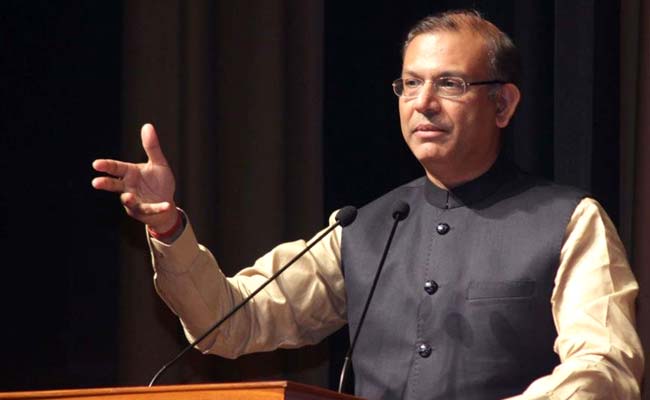 With demonetisation set to complete its one year on November 8, the Opposition has been trying to corner the Narendra Modi government, alleging the failure of the move.
In an exclusive interview to India TV, Minister of State for Civil Aviation Jayant Sinha defended the note ban, saying people welcomed the move, and it was proven when BJP claimed thumping victory in Uttar Pradesh and Uttarakhand Assembly Elections this year.
In a debate over demonetisation with Congress spokesperson Randeep Surjewala on India TV, Sinha said that the cash to GDP ratio has come down, and people have adopted digital transactions in their everyday life.
Criticising the Modi government, Surjewala alleged that the nation's GDP suffered a loss of Rs 3.5 lakh crore because of a 'tughlaqi' decision of demonetisation.
"People lost jobs, employment because of the note ban. The nation's GDP suffered a loss of Rs 3.5 lakh crore because of a 'tughlaqi' decision," said Surjewala.
Hitting back, Sinha said that every note deposited in banks post note ban is under scrutiny, adding that the authorities have complete knowledge who evaded taxes and hoarded black money.
"When all the notes came back to banks, we started scrutinising every note. We have complete knowledge of people who evaded taxes, and action will be taken against those," said Jayant Sinha.
Sinha also countered Surjewala's claim that cash to GDP ratio has increased.
"Before demonetisation, cash to GDP ratio was 11.3, which has now come down to 9.7. We are trying to bring it down further and promote digital transactions," said the minister.
He further added that the volume of online transactions has increased by twice to thrice, may it be through IMPS, PoS or mobile wallets.
Surjewala attacked the BJP leaders, including party president Amit Shah, alleging that they knew about the note ban well beforehand, and got their black money converted into white before the November 8 announcement by PM Modi.
On this, Jayant Sinha said: "Surjewala ji is a lawyer and very well knows all legal procedures. He can approach the court, and do legally whatever he wants to if he has proof for this claims. He would have done so in this one year."
The entire debate will be telecasted tomrrow, exclusively at India TV.