Follow us on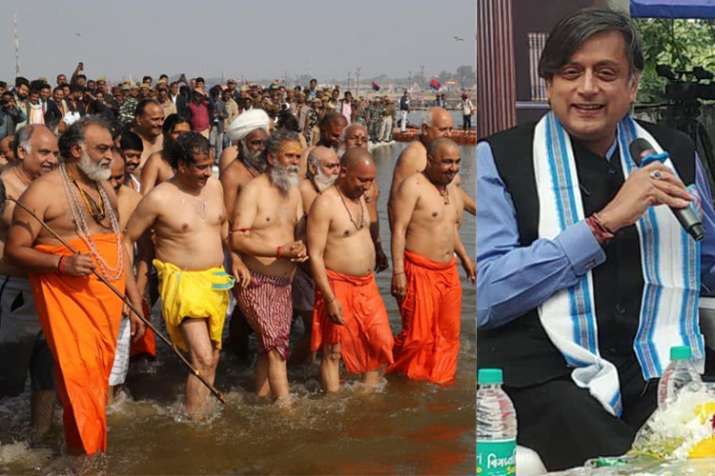 Congress leader Shashi Tharoor has once against landed in controversy over a tweet. Tharoor, who took a jibe at Uttar Pradesh cabinet for taking a holy dip in the Ganges at Sangam during the ongoing Kumbh Mela, is facing flak for making a 'religious slur'. 
"Ganga bhi swachh rakhni hai aur paap bhi yahin dhone hain. Is Sangam mein sab nange hain. Jia Ganga maiya ki. (Those who want to keep Ganga clean also wash off their sins here. Everyone is naked at Sangam. All hail Mother Ganga)," Shashi Tharoor had tweeted on Tuesday alongwith a picture of UP cabinet taking holy dip at the Kumbh mela. 
Taking exception to the statement, Union minister Smriti Irani condemned the language of the social media post and demanded an explanation from Congress chief Rahul Gandhi. 
"For Shashi Tharoor to make a statement which tantamounts to a religious slur. Question needs to be asked of Rahul Gandhi who strategically wears a 'Jenau' only when there are polls, as to why he has allowed this attack on beliefs of millions of Hindus across the world," Irani was quoted by news agency ANI as saying. 
Also commenting on the statement, BJP leader and UP minister SN Singh claimed that Tharoor's tweet originated from his ignorance towards culture and importance of Kumbh. 
"How will he understand importance of Kumbh? Atmosphere he's in, culture he has been brought up in, doesn't understand this. You people have committed a lot of misdeeds, take a holy dip in Kumbh and you might be able to repent for your sins," Singh said.
UP Chief Minister and cabinet minister had held an unprecedent cabinet meteing at the shores of Ganga river during the ongoing Kumbh mela on Tuesday. Following the meeting, almost all members of the cabinet took a holy dip at the Sangam. 
Also read | Adityanath's cabinet meet at Kumbh: Development, patriotism and religion before holy dip at Sangam for UP minister