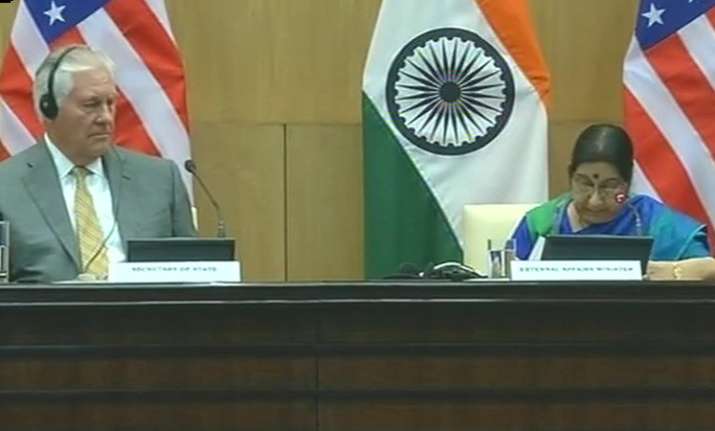 External Affairs Minister Sushma Swaraj on Wednesday said that US President Donald Trump's policy on terrorism can only succeed when Pakistan takes action on terror groups.
Addressing a joint press conference with US Secretary of State Rex Tillerson, the External Affairs Minister said that defence and strategic relations between the two countries have deepened after PM Narendra Modi's US visit.
Meanwhile, US Secretary of State Rex Tillerson, who is on his first visit to India in his official capacity, said "India and US are natural allies. Stand shoulder to shoulder against terror."
#WATCH Live: US Secy of State Rex Tillerson & EAM Sushma Swaraj issue joint press statements in Delhi. https://t.co/yW9xsgh26a

— ANI (@ANI) October 25, 2017
"Had a very open frank exchange with Pakistan leaders in Islamabad on Tuesday, conveyed to Pakistan the expectations we have," Tillerson added.
The US Secretary of State further said that terrorist safe havens will not be tolerated.
The meeting assumes significance given Tillerson's remarks on boosting India-US ties ahead of his arrival.
During an unannounced visit to Afghanistan on Monday, Tillerson explained that the US approach was that the scope of its relationship with India was not confined to South Asia, but went beyond Pakistan's regional interests to a wider area stretching across the Indian and Pacific Oceans and having global implications.
"Our view of the relationship with India is one that's of strategic importance not just for this specific region, but in the context of that speech it was about a free and open Indo-Pacific region stretching all the way to - from Japan to India," Tillerson said.