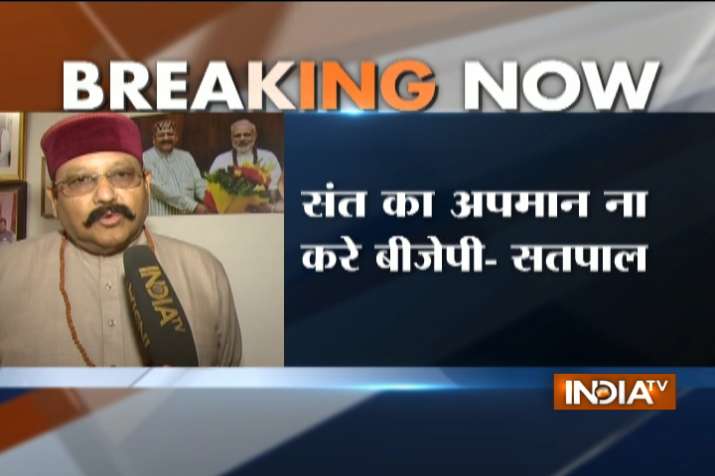 Striking a discordant note ahead of swearing-in of the new Uttarakhand Chief Minister, senior BJP leader Satpal Maharaj today refuted speculations over his becoming the new Speaker of state Assembly and made it clear that the party should not insult a saint like him.
He also pointed out that the BJP had projected him as the party's face in the just-concluded Assembly elections and therefore, he has to fulfil the expectations of the people now that the BJP has registered a landslide victory.
"I don't want to become the Speaker. I want to continue in active politics. The BJP had projected me as its face in the Assembly elections. Now, I want to implement PM Modi's vision in the state," Satpal Maharaj told India TV.
Satpal Maharaj also said that he was still in talks with BJP President Amit Shah over his role in the new government. 
The BJP leader, who is also a popular spiritual leader, added that the party will get benefit in upcoming state elections by giving him important responsibility in Uttarakhand. 
" If the BJP gives me important responsibility in Uttarakhand  then the party will benefit in upcoming Assembly elections in states like Gujarat and Himachal Pradesh where I have large number of followers. The party will get advantage in both 2017 Assembly elections as well as 2019 Lok Sabha elections," Satpal Maharaj said.
He also added that the BJP should not show disrespect to a saint like him.
"I will request my senior party leaders to ensure that saints are not shown disrespect," Satpal Maharaj said. 
Satpal Maharaj has been elected from Chaubattakhal Assembly constituency . He defeated his nearest Congress rival Rajpal Singh Bisht by around 7,000 votes.
Maharaj, a former Congressman, had switched over to the BJP in March 2014 just ahead of Lok Sabha elections.