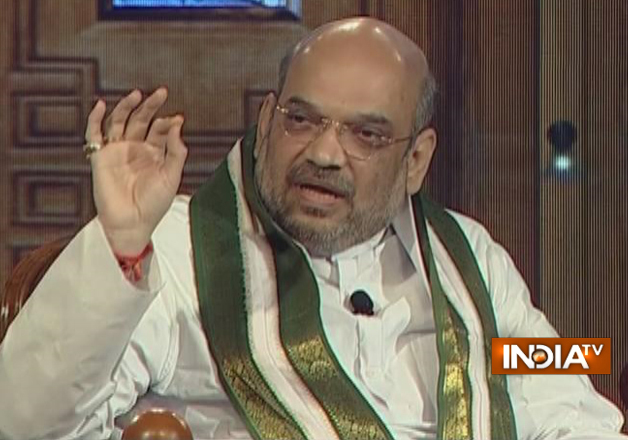 In a first for the Bharatiya Janata Party since it stormed to power with a thumping majority in 2014, BJP president Amit Shah today defined 'achche din', a trademark political slogan that has almost become synonymous with Prime Minister Narendra Modi.
"Government distributed 30lakh LPG connections among poor people in rural part of the country, this is achche din… provided employment to nearly 3.78 lakh people under Mudra Yojna, this is achche din. Rate of urea have come down under BJP-led government...this is achche din," Amit Shah told India TV's Editor-in-Chief Rajat Sharma at conclave 'Chunav Manch' here.
Making an appeal to the people to bring change in Uttar Pradesh by voting the BJP to power, he said, "Give BJP mandate in Uttar Pradesh, we will surely bring achche din here as well."
Shah exuded confidence that his party will get two-thirds majority in the forthcoming Uttar Pradesh assembly elections and the main fight in the elections this time will be between BJP and the ruling Samajwadi Party. 
"The Congress is nowhere in the picture. It has become irrelevant. You can't find the Congress even with a binocular. The Congress is mainly cutting into the votes of Samajwadi Party and Bahujan Samaj Party," Amit Shah said. 
 
Lashing out at the Samajwadi Party and BSP, he said, "Barring development, SP and BSP indulged in all activities."
"BJP ruled states are doing good. You can notice the development works," he added.
He also rejected Mayawati's charge that BJP was inducting 'rejected' leaders. "BJP inducts leaders only after scrutiny."
Barring development, SP and BSP indulged in all activities: @AmitShah #ChunavManch pic.twitter.com/IJMFWAMeoU

— India TV (@indiatvnews) September 16, 2016
Attacking Mayawati, he said, "BSP is selling tickets for the polls. She has increased the rate of tickets. Candidates are unable to pay her and that's why they are leaving her party."
He further observed that tickets should only be distributed on the basis of merit.
"Tickets should be distributed on merit basis. Distributing tickets on religion and caste basis is wrong and parties should not promote this," he said, adding that his party doesn't believe in taking any such 'advantage'.
"BJP will not enter UP poll fray with issues of Hindu or Muslim. Development is the subject," he said.
Asked when the proposed Ram Temple will be built in Ayodhya, Amit Shah said, "It depends on the court verdict. However if both sides agree to start talks on the dispute, the government would surely facilitate."
We will abide by the court decision on Ram Mandir issue, says @AmitShah #ChunavManch pic.twitter.com/7ija5IQTbE

— India TV (@indiatvnews) September 16, 2016
He also made it clear that the government will not interfere in the matter which is pending before the Supreme Court. 
On reservation issue, he said, "Reservation should be debated publicly. It is debatable issue." 
Amit Shah also allayed BSP supremo Mayawati's apprehension that the BJP at the Centre may go in for more violence in Kashmir or a war with Pakistan to win the UP elections. 
"Kashmir is not a political issue for us, and it will never be. Rajnath Singhji recently visit Valley and also led an all-party delegation. All the main political parties have backed the government on Kashmir," Amit Shah replied.
"Her (Mayawati) party was not part of the delegation because it has no MP in Lok Sabha. Mayawati should remember that her party failed to win a single Lok Sabha seat in 2014 without a bullet having been fired," he added.
Asked whether the entry of Priyanka Vadra can change equations, the BJP president said. "It is for the Congress to decide, but her entry won't have much impact. The Congress is nowhere in the picture."
He also took jib at uproar created at Congress vice-present Rahul Gandhi's 'Khaat Sabhas'. "Farmers who did not get a khat are the ones who are crying."
Asked why his party has not projected its chief ministerial candidate in UP, Amit Shah said, "The party has not yet decided on this. We will decide at an appropriate time. We do have a dozen leaders with potential of becoming a chief minister."
BJP has so far not decided the name: @AmitShah on CM face for UP polls #ChunavManch pic.twitter.com/0hTCGBeB9W

— India TV (@indiatvnews) September 16, 2016
Recalling that his party had gone to the polls in Maharashtra and Haryana without a chief ministerial candidate, Amit Shah said: "It is not proper to look at electoral strategy from the angle of political infighting." (Chunaav ran-neeti ko sirf jhagde ke chashme se dekhna theek nahin hai)
On rising number of rape cases in Uttar Pradesh, he said, "We will work to improve safety of women in UP. We have done it in during Kalyan Singhji's time. The incident of Bulandshahr gangrape shouldn't be politicized. It was different in nature and believe me I am not saying this because of political gain. Any incident of rape is very unfortunate."
He also accused CM Akhilesh Yadav of not utilising the Central government's fund.
"Things are so unorganized in UP that benefits of Central govt's schemes don't reach end people in UP," he said.