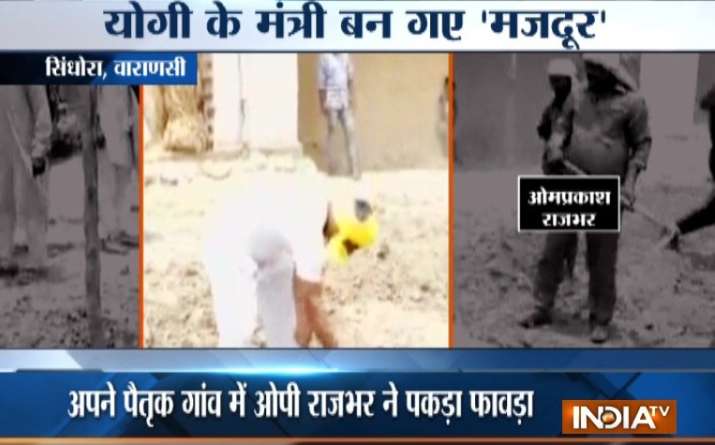 Disappointed with the inaction of the local district authorities, a Uttar Pradesh minister had to pick up shovel and fix the road leading upto his house in Varanasi's Sindhora himself. 
The NDA leader Om Prakash Rajbhar, who frequently grabs headlines for criticising alliance partner BJP, claims that the 250-metre road stretch outside his home was not fixed by authorities despite repeated requests till the highest level. So the minister, along with some members of his family and villagers, decided to pick up the shovel and fix it himself before his son's wedding reception tonight.
The minister says he got the idea from Amar Singh, who recently paid him a visit. "Yesterday, Amar Singh ji suggested that if authorities were not paying head to my requests, I should at least fix the road temporarily myself. Today the idea struck and I did it."
The reception is expected to be attended by BJP President Amit Shah and UP CM Yogi Adityanath. Former Samajwadi Party leader Amar Singh is also invited. 
History of controversies: 
OP Rajbhar, who heads the Suheldev Bharatiya Party - an ally of the ruling BJP, has courted controversy more than once. 
In April, the Backward Classes Welfare Minister had said that Yadavs and Rajputs consumed maximum liquor, 'This is their ancestral business', the leader was reported as saying. His comments had drawn sharp reaction from the people, who threw tomatoes at his house. 
He has courted controversy earlier with his criticism of the performance of the Yogi Adityanath government in the state. 
In another controversial remark on drinking, he had said, "If someone offers you liquor, consume it but vote as per your discretion." 
Watch video: