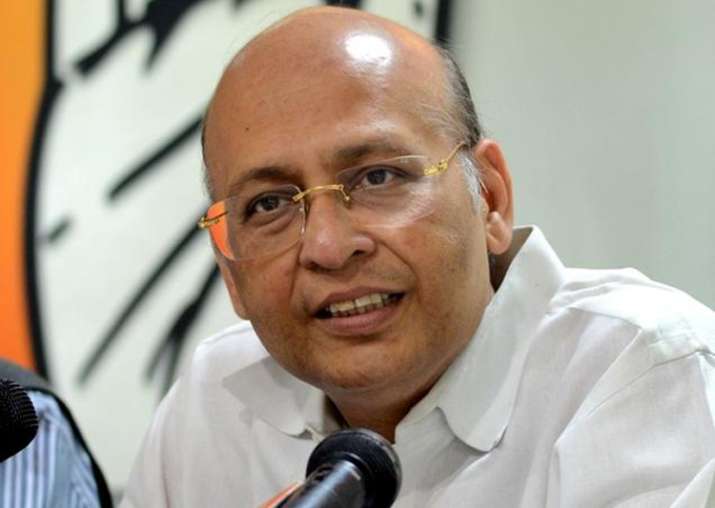 The Congress today demanded imposition of president's rule in Haryana and sacking of the M L Khattar government even as it accused both the state and the Centre of being "mute spectators" to arson and violence after the court verdict against Gurmeet Ram Rahim Singh. 
Congress spokesperson Abhishek Singhvi also accused Prime Minister Narendra Modi of failing to implement "Raj Dharma" and alleged that he was more interested in protecting and serving the interests of his "close friend" Haryana Chief Minister Khattar. 
Singhvi said it is unprecedented that such a situation arose even after prior notice of seven days and both state and central governments have been "mute and impotent spectators" for the last six-seven days. 
Prime Minister Modi yesterday strongly condemned the "deeply distressing" violence that swept Haryana and other states after conviction of Dera Sacha Sauda chief Ram Rahim Singh in a rape case, and appealed for peace. 
"Unfortunately, the prime minister is more interested in protecting and sub serving the interests of his close friend Khattar. Unfortunately, the home minister can do no more than be a mute spectator," Singhvi said. 
"This is an inefficient, incompetent, ineffective state Khattar government. It should have been removed a while ago, it must be removed immediately and president's rule imposed. This goes without saying and this is bare minimum. It should happen," he told reporters. 
Former Haryana chief minister Bhupinder Singh Hooda also said Khattar should resign on moral grounds, otherwise the Centre should dismiss him and impose president's rule. 
He also doubted the casualty figures given by the state government and feared more people had died in the violence that gripped 15 cities of Haryana, including Panchkula, where the special CBI court pronounced the verdict in a rape case against the Dera chief. 
He claimed private and public property worth thousands of crores has been destroyed by violent mobs of followers of the Dera chief. 
Hooda alleged there was complete breakdown of law and order machinery in the state and said "one feels as if there is no government in Haryana". 
"This has happened earlier too, during Jat reservation issue and the Rampal Dera incident and now this incident clearly shows the incompetence of this government and has proved it a failure," he said. 
Hooda claimed people have lost faith in this government and "this government should resign on moral grounds and if not, the Centre should dismiss it and impose president's rule". 
Singhvi said "strongest, toughest measures" should have been taken by the central government but it has failed to take steps to preserve and implement "Raj Dharma". 
"We exhort the prime minister to do his 'Raj Dharma' without fear or favour, firstly by immediately promulgating president's rule, and secondly by immediately removing this incompetent chief minister," he said.