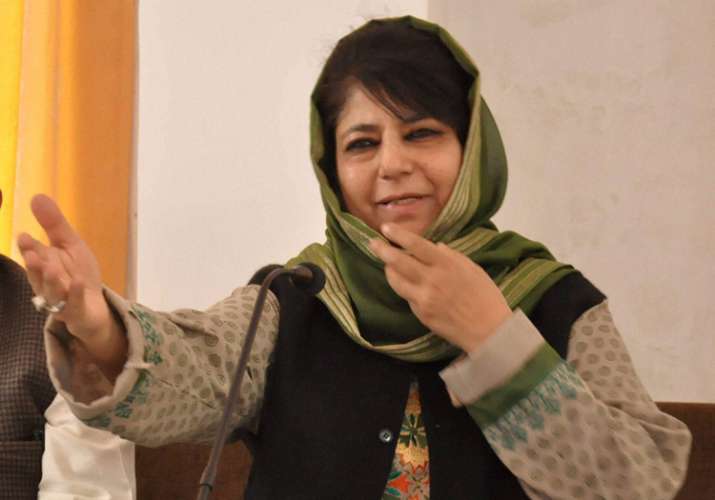 Jammu and Kashmir Chief Minister Mehbooba Mufti on Monday said that demotivating newly-recruited militants and bringing them back to their homes will be the thrust of the state government, days after a local militant was persuaded to surrender by the security forces. 
"Our first thrust would be to demotivate those who have recently joined the (militant) outfits but have not been involved in any kind of militancy act, and bring them back to their homes," Mehbooba told reporters here. 
In the same breath, she said the security forces were well-equipped and capable to deal with militancy in the state. 
She also asserted that those responsible for burning schools in Kashmir will not be spared and said some miscreants involved in such activities have already been arrested.
Referring to the surrender of militant Umar Khaliq Mir in Baramulla last week after five-hour-long persuasive efforts of the security forces, she said, "The boy, who came back, had joined militant ranks three months ago and he was not involved in any militancy-related incident." 
She said militancy was always a concern whether there are two or 50 militants present or 250-300 militants and that the endeavor would be to bring back them into national mainstream. 
"There was presence of thousands of militants (during the beginning of militancy) and today there are 200-300 militants present in which some foreign mercenaries are there," she said here where the Civil Secretariat reopened today after functioning from Srinagar for six months. 
The Chief Minister said she was confident that the security forces are capable of dealing with the situation. 
Referring to the incidents of burning down of schools in the valley over last few months, Mehbooba said those responsible will not be spared. 
"Children (of Kashmir) have been coming here (in Jammu) for studies and unfortunately, some of our schools have burned down and education has come to a standstill in a way (in Kashmir)," she said. 
"When everything started moving in Jammu and Kashmir, some miscreants burned down our schools which impacted the education system. We will not spare those who burned down our schools. I hope that in the coming week, there would be some good news (with regard to reopening of schools which have been shut for over 4 months)," she said. 
She said the authorities have already taken into custody some miscreants who were engaged in burning down of schools. 
"They have been arrested and put behind bars," she said. 
As many as 34 schools have been burnt down and 110 government buildings damaged in Kashmir Valley since the unrest began following the killing of militant commander Burhan Wani in an encounter on July 8. 
Asked about the change of heart and stubborn attitude of the separatists with regard to the situation in Kashmir, she said, "You are posing a question to the wrong person. You should ask this question to them (separatists), what can I say." 
(With PTI inputs)