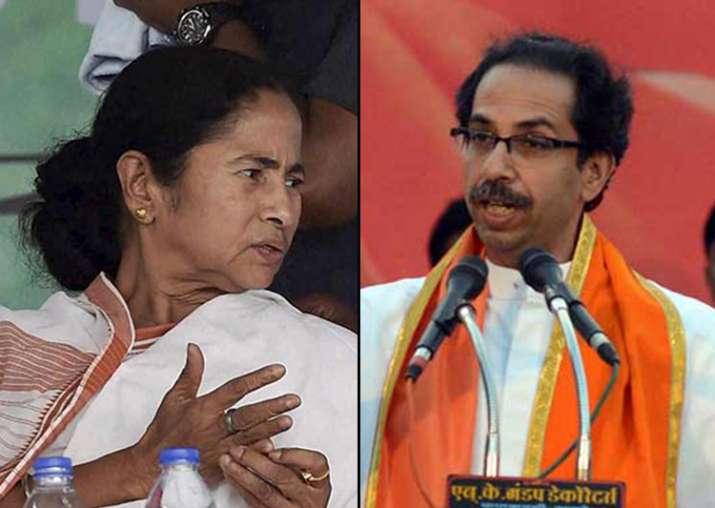 West Bengal Chief Minister Mamata Banerjee has found an unlikely ally in Shiv Sena President Uddhav Thackeray in her protest against Centre's move to scrap notes of Rs 500 and Rs 1000. 
Thackeray has discussed the fallout of demonetisation with Mamata Banerjee, Shiv Sena MP Sanjay Raut said here on Tuesday.
"This is not anti-government or against Prime Minister Narendra Modi. This is an issue concerning the 125 crore people of India and their sufferings, their ongoing torture, about which every political party is concerned," Raut said, without divulging the content of the conversation between Thackeray-Banerjee. 
The Shiv Sena is a constituent of the ruling Bharatiya Janata Party-led NDA at the Centre and in Maharashtra and has virulently criticised the demonetisation. 
Raut argued that last Tuesday's (November 8) demonetisation of Rs 500 and Rs 1,000 notes had created "financial anarchy" in the country and people across all sections of society are the worst-hit since seven days. 
Criticising demonetisation as "a cure being worse than the disease", the Rajya Sabha MP said the party will not remain a silent spectator to peoples' sufferings and will announce its next course of action. 
Later, at a hurriedly convened meeting of top party leaders and lawmakers, Thackeray said the Shiv Sena is not against Modi, but now it is a matter of life and death for the people of the country. 
In another veiled attack, Thackeray said sarcastically: "If Modi can go with (NCP President) Sharad Pawar, then why Shiv Sena can't join Banerjee?" 
He even expressed willingness to join Banerjee who is planning to take a multi-party delegation to meet President Pranab Mukherjee on the post-demonetisation scenario "in the interest of the common masses." 
Sena's Lok Sabha MP Arvind Sawant announced that Shiv Sena would join the delegation to Rashtrapati Bhavan on Wednesday afternoon, following an invitation by Banerjee. 
Sawant said that the situation in rural and moffusil areas is even worse where farmers and general people are in a state of panic without money and the matter compounded with the fresh restrictions on district banks for financial transactions.
Shiv Sena had yesterday described the demonetisation as "demonic and unsystematic" that has led to "financial anarchy" in the country. 
Lashing out further, the ruling ally said instead of striking Pakistan, Modi has wounded Indian citizens who do not have any black money and the few who actually possess illegal funds have safely parked it in foreign banks.  
"125 crore Indians are standing in queues in scorching heat without food and water. Do you expect them to back you in future? Are you repaying people the blessings they gave you by forcing them to come on streets? This is blatant cheating with them," an editorial in Sena mouthpiece 'Saamana' said. 
"The spectacle of weeding out black money is monstrous," it said.