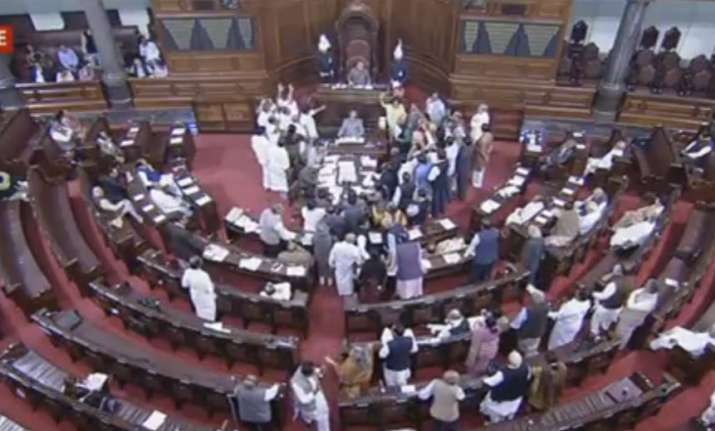 Amid ongoing uproar over demonetisation, both houses in Parliament were adjourned repeatedly as a united opposition including the Congress, the Trinamool Congress and the Left parties, continued to protest and asked Prime Minister Narendra Modi to respond to questions to what they have termed 'economic anarchy' in the country.
"We want Narendra Modi to go," shouted members of Opposition as the speaker urged them to go back to their seats.
Finance Minister Arun Jaitley is expected to make a statement on the issue in the Rajya Sabha.
Here are the updates:
Rajya Sabha adjourned for the day after clash between Opposition and Treasury benches over certain comments by Leader of Opposition Ghulam Nabi Azad. 
Lok Sabha adjourned till tomorrow, Rajya Sabha adjourned till 3 pm.
Lok Sabha speaker Sumitra Mahajan adjourned the House at 12.06 pm due to the ruckus created by members who were demanding a debate on demonetisation.
Speaker Sumitra Mahajan says it seems the Opposition members don't want discussion but just want to disrupt the House. Question Hour begins as Opposition MPs continue to shout.
Mahajan asks the Opposition MPs to stop shouting and take their seats if they want a discussion on demonetisation.
Opposition MPs continue to shout, demanding an adjournment. But they seem to be heeding little to Speaker Sumitra Mahajan, who yet again asks Opposition MPs to stop shouting and take their seats.
Opposition parties have moved an adjournment motion, which seeks to put aside regular work to debate and vote on the ban on 500 and 1000 rupee notes in the Lok Sabha today, and Congress vice-president Rahul Gandhi is expected to speak.
West Bengal chief minister Mamata Banerjee has instructed her Trinamool Congress to disrupt proceedings in the Lok Sabha, where the government has a big majority,
"Farmers are dying in the country and on the other hand someone is celebrating a Rs 500 crore marriage," an MP shouted in the Lok Sabha.
As soon as Rajya Sabha resumed, members began to shout slogans against the Prime Minister, making proceeding extremely difficult. Hamid Ansari who was chairing the session was forced to adjourn the House again till 12.30 pm
"We are ready to discuss any issue, there is nothing to hide. We want the Congress to clarify, are they with the government decision or not? You've got every right to make demands, and the government will reply to it all," said senior union minister Venkaiah Naidu this morning, before parliament convenes at 11 am.