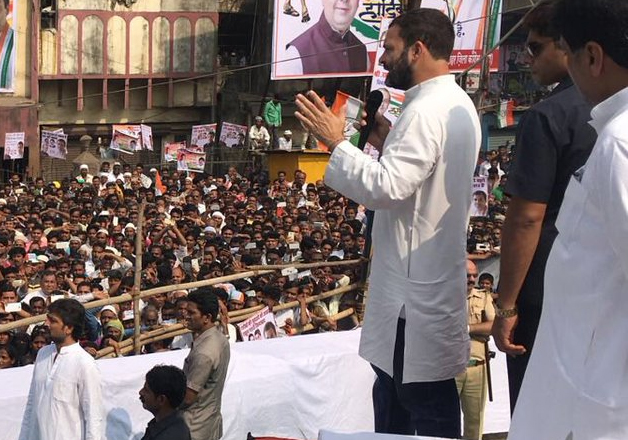 Training his guns on Prime Minister Narendra Modi, Congress vice-president Rahul Gandhi on Wednesday charged that no action was being taken against the 'real black marketeers' and the 'industrialist friends' of the former.
Addressing a large group of Congress workers in Bhiwandi after being granted bail in a defamation case, Rahul demanded immediate action alleging 'in the past couple of years, Modi has waived off over Rs 110,000 crore of loans to a handful of 15 industrialists, with whose help the country is being run'.
"Those who are real black marketeers, those who have Rs 10-20000 crore, those who go with Modi in planes, action should be taken against them. No action is being taken," he said. 
"There is no investigation or action taken against Modiji's industrialist friends," he added.
"You are being made to stand in queues. Your money will be given to those select 15-20 industrialists. You all know their names. He (Modi) is running their government," he further said.
एक तरफ आज़ादी की विचारधारा है और दूसरी तरफ गुलामी की.जिनसे मैं लड़ रहा हूँ वो हिंदुस्तान को झुकाना चाहते हैं-यह देश कभी झुक नहीं सकता! pic.twitter.com/KybDNMItwD

— Rahul Gandhi (@RahulGandhi) November 16, 2016
Rahul also said that long queues before banks and ATMs had caused problems for the common man. 
"The masses are standing in a queue. Do you see any rich person, a big industrialist standing in queue," Rahul sought to know. 
"Did you get Rs 4000 notes? Did you get indelible ink mark on your hands," he said. 
Maharashtra PCC president Ashok Chavan, in his address to the supporters, said people of Maharashtra are with Rahul and Sonia Gandhi in the struggle against BJP government's anti-people policies. 
In a stinging attack on Modi on the demonetisation issue, Rahul had last night said the prime minister was "laughing" while people were dying in queues outside banks and ATMs to withdraw money and the move will turn out to be a "big scam". 
The government did not seem to be going after the "big players" in black money like Vijay Mallya and Lalit Modi, he had said. 
He also claimed that BJP members were alerted beforehand about the demonetisation. 
With PTI Inputs