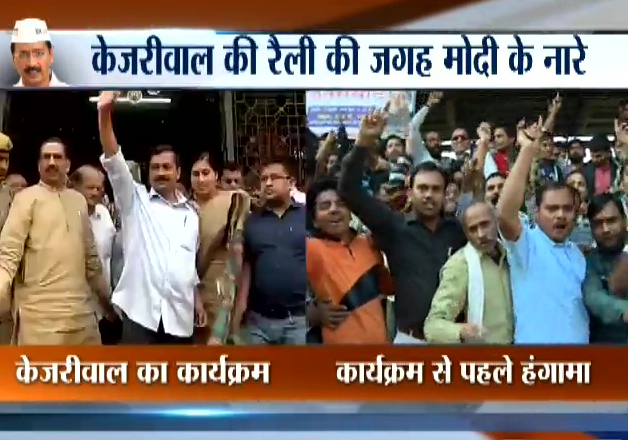 In an embarrassment of sorts for Delhi Chief Minister Arvind Kejriwal, scores of people protesting near the dais ahead of the AAP supremo's rally against demonetisation at Azadpur Mandi in the national capital began raising slogans in favour of Prime Minister Narendra Modi. 
The protesters waved black flags and demanded that Kejriwal be sent back without addressing the rally.
Police said that they have detained people who were raising slogans and the situation was fully under control. 
Police said that Kejriwal not present at the dais when the protestors reached there and raised slogans against him for misleading people over the November 8 decision.
Besides Kejriwal, his West Bengal counterpart Mamata Banerjee, who is also protesting against demonetization of Rs 500 and Rs 1,000 notes, is slated to join him and address farmers, traders and labourers here.
Kejriwal's decision to hold a rally comes a day after Mamata-led opposition urged President Pranab Mukherjee to direct the Centre to withdraw its decision on demonetisation while demanding a Supreme Court-monitored probe into the scrapping of high currency notes.
Mamata and Kejriwal have said that scheme is only causing hardship to the poor and has hit farmers and traders, who are forced to deal in cash due to the nature of the market and the economy involved.
Azadpur Mandi is the biggest vegetable and fruits wholesale hub in the national capital. Traders have been complaining that they are facing problems due to demonetisation.