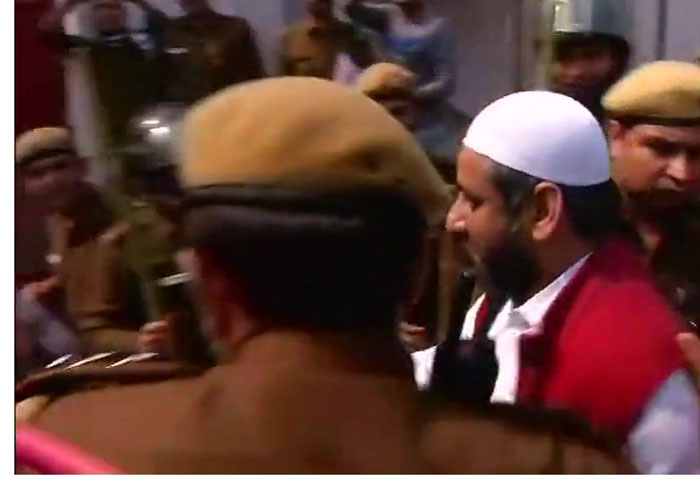 Aam Aadmi Party (AAP) MLAs Amanatullah Khan and Prakash Jarwal were on Wednesday produced before the Tees Hazari court by Delhi Police in connection with the Delhi Chief Secretary Anshu Prakash assault case.
The bench dismissed the Delhi Police's application seeking custody of the two accused lawmakers, while the hearing on bail plea will be heard at 4:30 pm today. 
Denying allegations of assaulting Prakash, Amanatullah Khan surrendered before the Delhi Police on Tuesday, after which he was formally arrested today. Jarwal was also arrested in connection with the case. 
Delhi Chief Minister Arvind Kejriwal's adviser, VK Jain, was also questioned for three hours since he was present at the meeting, police said.
Earlier in the day, the Delhi High Court refused to entertain a plea for judicial intervention in the matter. "They (police) will take action in accordance with law. We will wait for the final outcome," the bench said.
Meanwhile, the medical report of the chief secretary has confirmed injuries with cut marks and swelling on and near his face.
In his complaint, Chief Secretary Anshu Prakash had alleged that he was sitting on a sofa flanked by Amantullah and another AAP MLA during the Monday night meeting, and without provocation, the two legislators "started hitting and assaulting" him "with blows on head and temple".
A case has been registered at Civil Lines police station on the complaint filed by the chief secretary.
Amanatullah Khan alleged that the chief secretary was acting at the behest of the BJP and "the incident is a pretext to dismiss the AAP government". 
The Delhi Police is working under pressure of the home minister, he alleged. 
"Today, the BJP and the Congress have come out in the open demanding dismissal of the AAP government. There is no proof that the chief secretary was beaten up. On the contrary, our minister was beaten up, our volunteers were targeted but there is no action on this," Khan told reporters before his arrest.
Prakash claims to have been assaulted on Monday night at Kejriwal's residence during an official meeting.
The officer claimed he was questioned about the AAP government's media publicity during the meeting, while the AAP functionaries say he was called to discuss complaints on ration distribution. 
The chief secretary in his complaint alleged that the assault was "premeditated" and a "conspiracy" of all those present. Police have filed the FIR including the charge of criminal conspiracy in it.