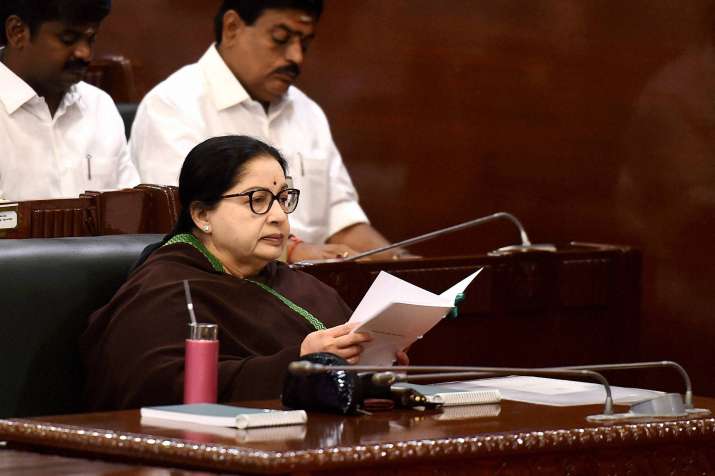 The Supreme Court on Thursday rebuked Tamil Nadu's Jayalalithaa government for filing defamation cases against political opponents and said such cases should not be used as a political counter weapon against critics of governments.
The observation by the apex court came while hearing a plea by DMDK Chief Vijayakanth and his wife Premlata for non-bailable warrants (NBW) against them.
"Anyone calling a government corrupt or unfit cannot be slapped with defamation case," a bench comprising Justices Dipak Misra and R F Nariman said while staying the NBW against Vijayakanth and his wife.
The apex court further said, "there has to be tolerance to criticism…defamation cases cannot be used as a political counter weapon. Cases for criticizing the government or bureaucrats create a chilling effect."
A Tirupur trial court had yesterday issued a non-bailable warrant against Vijayakanth and his wife after they failed to appear before the court with regard to the defamation case against them.
The case lodged by Public Prosecutor of Tirupur district was on the allegation that they made false remarks against Jayalalithaa and criticised the functioning of the State government on November 6, 2015.
Earlier, the apex court had issued notice to Jayalalithaa on a plea by Vijayakanth seeking stay on proceedings on a criminal defamation case filed against him through public prosecutor.
Besides Jayalalithaa, the court has also issued notice to the public prosecutor who has filed the defamation case.
It also sought the list of defamation cases filed by the public prosecutors in Tamil Nadu on behalf of Chief Minister Jayalalithaa against her critics in two weeks. The penal provision on defamation (section 499 and 500 of the IPC) should not be used to throttle dissent, the bench said, adding that the court must step in, if there are continuous efforts to harass persons by filing a number of defamation cases.
The bench told the counsel for Tamil Nadu government that there should not be abuse of defamation provisions.  
"A sustained democracy is predicated fundamentally on the idea of criticism, dissent, and tolerance, for the will, desire, aspirations and sometimes the desperation of the people on many an occasion are expressed through such criticism," the bench had said while reproducing the submission made by DMDK counsel G S Mani.