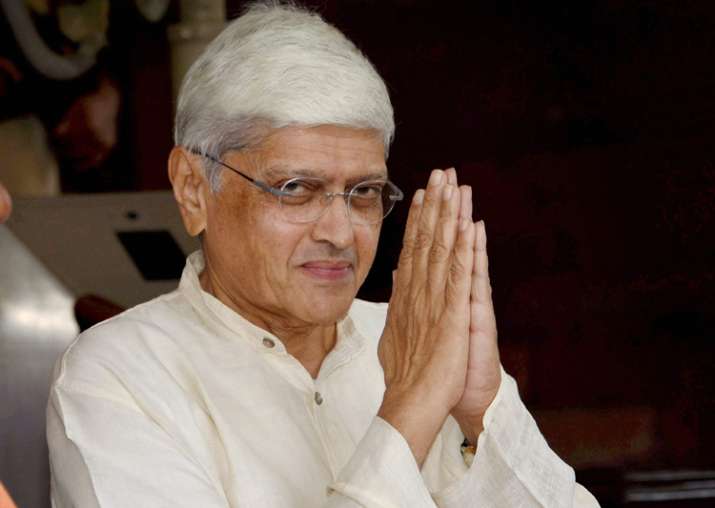 Opposition's Vice Presidential nominee Gopal Krishna Gandhi today hit back at the Shiv Sena which targeted him for leading a campaign two years ago against the execution of 1993 Mumbai serial blast plotter Yakub Memon. Speaking to media here after filing his nomination papers, Gandhi said that 'the reaction was expected' from the party which shares power with the BJP both in Delhi and Maharashtra. 
Terming himself an ordinary citizen, Gandhi said that his views were personal and he believes it to be his duty to speak what he believes in. "I am not associated with any party. My views are my own." 
"I believe death penalty belongs to the medieval ages. My views are inspired by Mahatma Gandhi who was opposed to capital punishment and Dr BR Ambedkar who said that it would be better if death penalty was totally done away with."
#GopalKrishnaGandhi filed nomination for #VicePresidential poll;Congress pres Sonia Gandhi,VP Rahul Gandhi&frmr PM Manmohan Singh wr present pic.twitter.com/RQ4mxZwAPo

— ANI (@ANI) July 18, 2017
"People's faith in politics has diminished, collapsed. I would like to see a revival of that. We are living in times of division. A whole force in action mode to divide our country and that spells danger," he added.
The former West Bengal government further noted that he has also written a letter to the Pakistani government asking not to hang former Indian Navy officer Kulbhushan Jadhav, who was awarded capital punishment earlier this year by a military court. Jadhav's execution was, however, put on hold by the International Court of Justice after India raised the matter at the international forum. 
"I had also written to Pakistan Prime Minister (Nawaz Sharif) demanding that he should not hang Kulbhushan Jadhav," the grandson of Mahatama Gandhi said.
Yesterday, Shiv Sena MP Sanjay Raut had questioned the opposition's decision to field Gandhi as its candidate in the Vice Presidential poll, saying 'he had tried to save bombing plotter Memon'. Memon was the lone convict in the 1993 Mumbai serial blasts case who was sent to the gallows on July 30 two year ago.
"Memon was a bombing plotter and a pawn in the hands of Pakistan which waged war against India. Gandhi had put all his might to save Memon. He had written a letter to the President seeking mercy for Memon. You have nominated such a man as the vice presidential candidate. What type of mindset is this? Narrow or broad? Is this in the national interest?" he had asked in response to the statement by Congress president Sonia Gandhi who had termed the oppositions contest in the vice-presidential elections as a 'battle of ideology'.
A retired IAS officer and diplomat, Gandhi, who was the Governor of West Bengal serving from 2004 to 2009, today filed his nomination for Vice President in the presence of senior Congress and other opposition leaders, including from the JD(U). He has been picked by 18 opposition parties to be their nominee for the post.
The Congress was represented by senior leaders such as president Sonia Gandhi, vice president Rahul Gandhi, former prime minister Manmohan Singh as well as Ghulam Nabi Azad and Mallikarjun Kharge as the former West Bengal governor filed his papers in the parliament complex. Also present were JD(U)'s Sharad Yadav, CPI(M)'s Sitaram Yechury, CPI's D Raja, NCP's Tariq Anwar and Praful Patel, NC's Farooq Abdullah and DMK's Kanimozhi. 
The Vice Presidential election will be held on August 5. Gandhi will contest against the NDA's candidate Venkaiah Naidu.