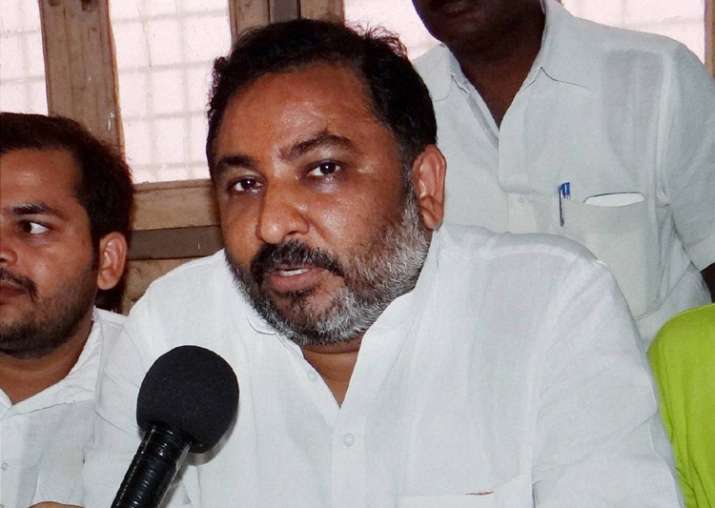 Lucknow: BJP leader Dayashankar Singh was today suspended from his party for six years for his derogatory comments against BSP chief Mayawati, hours after a police complaint was registered against him. 
He was earlier removed from all party posts by the UP BJP president Keshav Prasad Maurya. Singh was a vice-president in the state unit of the BJP. 
On Wednesday evening, BSP filed a police complaint seeking lodging of an FIR against BJP leader Dayashankar Singh under the SC/ST Act for his derogatory comments against its president Mayawati. 
BSP leaders, led by Leader of Opposition in the Legislative Council Naseemuddin Siddiqui, submitted the complaint at the Hazratganj Kotwali. 
The complaint, which was lodged by national secretary of BSP Mewalal Gautam, alleged that Singh's remarks in Mau earlier in the day have hurt the feelings of BSP workers and the Dalit community across the country and were aimed at provoking them. 
Referring to Singh's comments being telecast on national TV channels, he said they were so derogatory that they could not be mentioned in the complaint and so a CD of the same was being submitted. 
"Singh was aware that his offensive comments could trigger a strong reaction and riot," the complaint said, adding that this amounted to an offence under the Atrocities Against SC/ST Act 1989 and a case need to be lodged against him. 
An FIR is being lodged against Singh under the SC/ST Act and other sections, police said. 
Meanwhile, BSP has given a call for dharna in the state capital tomorrow to press for Singh's immediate arrest. The district administration has stepped up security in the state capital in view of the call for dharna. 
The state government has also condemned the remarks of the BJP leader and said stern action will be initiated as per the law on the basis of the FIR. 
Taking note of the remarks against Mayawati, the ruling Samajwadi Party in Uttar Pradesh today said "appropriate action" will be taken against him by the state government. 
"We will take appropriate action. The party condemns such a statement which is against the dignity of a woman. This is the real character of BJP leaders," said SP spokesman Rajendra Chowdhury. 
Singh, while talking to media in UP's Mau, had called the dalit leader and former UP Chief Minister "worse than a prostitute."
WATCH: UP BJP VP Dayashankar Singh uses derogatory language against BSP Chief Mayawati, compares her to a prostitutehttps://t.co/vic0uDhbkq

— ANI UP (@ANINewsUP) July 20, 2016
"Even a prostitute fulfills her commitment after she is paid. But Mayawati sells party tickets to anyone who paid her the highest amount. If someone gives her Rs 1 crore for a ticket she will give it to other person who is offering Rs 2 crore," Singh said.
"Mayawati has become worse than a prostitute and abandons the ideals of Kanshi Ram," he said.
Under attack for his remarks, Dayashankar later apologised and said, "Mayawati is a big leader,I can't say such a thing about anyone. I apologize for my remark."
"I can't even think about Mayawati ji in such a way. She has reached here after a lot of struggle," he added.
Lambasting BJP, former UP CM Mayawati said, "It is clear that BJP is scared by BSP's growing influence in UP and other states and that's why they are giving such statements".
A furious Mayawati, who is a dalit leader, demanded that Singh be expelled and warned the government in the Rajya Sabha that she will not be responsible if people hit the streets. Her party threatened to take legal action against the BJP leader. 
She was joined by leaders from other parties, including Congress. 
"It shows the mentality of the BJP," said Congress leader Ghulam Nabi Azad.
Finance Minister Arun Jaitley expressed "deep regret" in Parliament as the ruling BJP tried to control damage.
"I express personal regret. I associate with your dignity and stand with you," Jaitley said in the Rajya Sabha.
"We respect Mayawati and we condemn such statement made by any person," said BJP's Mukhtar Abbas Naqvi.