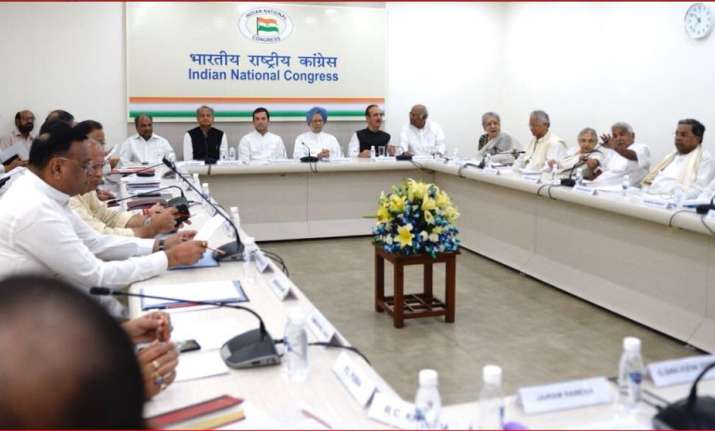 Congress president Rahul Gandhi on Saturday presided over the meeting of the Congress Working Committee (CWC) in New Delhi and held discussions with senior party leaders on various issues including Rafale deal and Assam NRC draft. 
The top decision-making body of the Congress decided to take on the Narendra Modi Government on the issue of corruption by launching a public campaign that will highlight the bank scams, Rafale deal and the "bad" state of the economy.
In a tweet, Rahul Gandhi said that the CWC discussed the existing political situation in the country.
"The CWC met today (Saturday). As a team, we discussed the political situation in the country and the huge opportunity for the Congress to highlight issues of corruption and failure of the government to provide jobs to our youth. Thank you to all those who attended today's meeting," Rahul Gandhi tweeted.
One of the highlights of today's CWC meeting, was Mr Antony's brilliant description of the Rafale robbery: 130,000 Cr. stolen from the people of India and given to a friend who was 45,000 crore in debt. #RafaleScam

— Rahul Gandhi (@RahulGandhi) August 4, 2018
Briefing media persons after the CWC meeting, senior Congress leader Ashok Gehlot said that a decision has been taken to start preparations for upcoming elections in four states. 
"Issues of NRC Draft Bill, corruption, bank fraud cases and Rafale deal were discussed in CWC. Discussions were held on the issue of unemployment. We have also started preparations for upcoming elections in four states," Gehlot said.