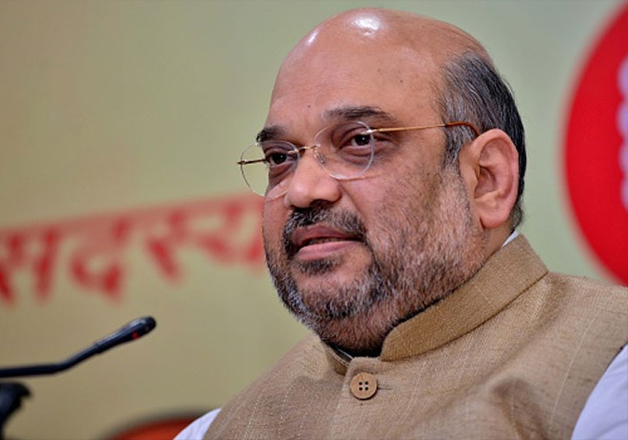 BJP president Amit Shah today hailed the Union Budget tabled by the government saying 'it is aimed at all-round development with sops for the youth, women, farmers, the poor and middle class'.
Speaking to reports here, Shah said that the Budget will usher in a new era of progress.
"It is a budget aimed at all-round development. On the one hand, it is pro-village and pro-farmers and on the other, it also provides new possibilities for youths willing to strike out on their own. It has given relief to middle class and will also help realise the dream of the poor and lower middle of owning a house," Shah said.
"Outlay of 10 lakh crore for agriculture credit, micro irrigation fund of Rs 5000 crore, increase in PM Fasal Bima Yojana will all help the farmer. Increased allocation for MNREGA at Rs 48,000 crore, from Rs 37,000 crore earlier, will help create assets in rural India. The Prime Minister's and Finance Minister's focus on providing social security, health care and affordable housing for the poor and underprivileged is laudable. Tax concession provided to middle class, who earn between 2.5 lakh-5 lakh will go a long way in improving their spending," he added.
The BJP president also termed as historic the announcement to restrict cash donation to Rs 2000 to a political party from one source.
He said that the decision will bring transparency and cleanliness in political funding and expressed hope that all parties will welcome it.
"Modi has fulfilled his promise made in 2014 to bring in transparency in politics. Cash donation to political parties has been reduced to Rs 2,000 from Rs 20,000. This is the beginning of a new era. I want to congratulate Modi for this," the BJP chief said.
Despite its sops for various sections of society, the budget seeks to keep fiscal deficit to 3.2 per cent which is laudable, he said, praising the Prime Minister and the FM.
Citing the increase in budgetary allocation to Mudra scheme to Rs 2.44 lakh crore, he said it will be a fillip to entrepreneurs. He also praised the hike in defence spending and the proposal to establish two new AIIMS.
"By increasing the allocation of Mudra Yojana to Rs 2.44 lakh crore, it would boost employment generation for the unemployed youth. Two new AIIMS would also come up in Jharkhand and Gujarat," said Shah.
Presenting the first Union Budget combined with Railways budget for 2017-18 in the Lok Sabha today, Finance Minister Arun Jaitley said the agenda of the government for the next year is to Transform, Energise and Clean India (TEC India). He said TEC India seeks to transform the quality of the governance and quality of life of people, energise various sections of the society and clean the country from the evils of corruption, black money and non-transparent political funding.