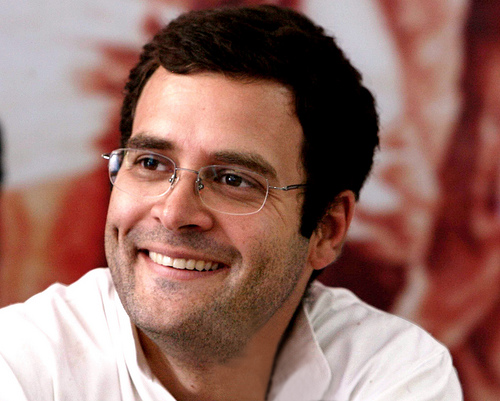 Congress Vice President Rahul Gandhi today revisited his short effort at singing during his high school days and hoped it would be the last time he will sing in public.
Gandhi began his speech at the Rajiv Gandhi Sadbhavna award function with a story of his own "short-lived musical career."
He said during his first days of high school his entire class was called into the common room and the seniors asked them to stand one by one on a stool and sing a song. 
"I can still remember the dread I felt as I stood up on that stool. I didn't know how to sing so I stood there quietly for a moment until someone shouted "Arre sing something Yaar" (sing something). I can't even tell you what I felt as I quickly belted out a song, the first song I could think of. I finished and as I hurriedly jumped off the stool someone shouted: "That's not music that's just noise". That's the first and hopefully last time I will sing in public," Gandhi said. 
Gandhi said it has been 34 years since he jumped off that stool - and he still can't sing. 
Referring to his quick search online, he said "Music is the art of arranging and joining sounds so as to create a harmonious melody while noise is an unwanted sound that is usually very loud and meaningless."
"Music is pleasing to the ears while noise is invasive and unpleasant. While music has a very soothing and pleasing effect on listeners, noise obstructs and confuses communication between man and animals," Gandhi said. 
"And to these I would add - from my personal experience - that music is about creating harmony. Music is the creation of a bond between the singer and the listener. Music is about humility and about embracing the other," he added. 
Gandhi said his father Rajiv Gandhi worked in politics to create harmony in the lives of people -- in a veiled attack on the BJP-led government over its policies. 
Renowned singer Shubha Mudgal was given the award at the function held to mark the 72nd birth anniversary of former Prime Minister Rajiv Gandhi.
(With IANS inputs)