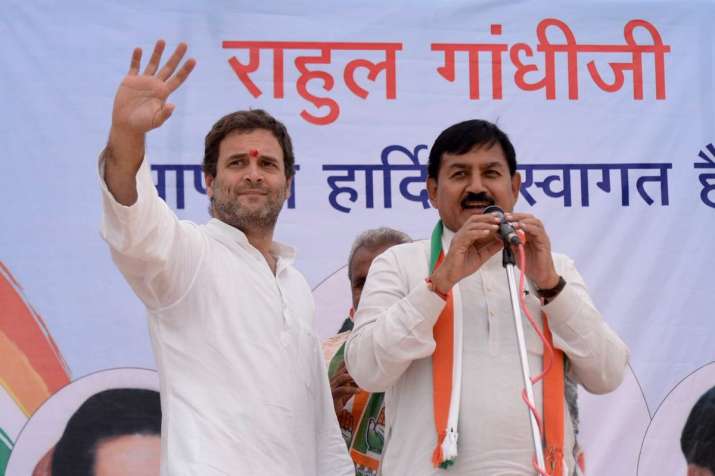 Congress vice president Rahul Gandhi, who is on a three-day tour to poll-bound Gujarat, on Tuesday attacked the Bharatiya Janata Party (BJP) over women empowerment saying the saffron party does not like women who speak their minds. Speaking at an event in Vadodara on the second day of his trip, Rahul said the BJP likes women only when they are silent.
"Their (BJP) thinking is that a woman is fine until she is silent. The moment a woman starts speaking they want to silence her. They have an organisation RSS, how many women are there in that organisation? Have you ever seen a woman in shorts at an RSS shakha. I have never seen that," he said. 
The Gandhi scion began his day by attending a prayer meeting and paying respects to Baba Saheb Bhim Rao Ambedkar at Sankalp Bhoomi in Vadodara. 
Yesterday, on his first day of his tour, Rahul attacked the BJP government in Gujarat saying that its doors were open only for a few industrialists.
He began his three-day tour of the poll-bound state by offering prayers at the famous Santram temple in Nadiad. 
During his first leg of the three-day 'Navsarjan Yatra' in Saurashtra last month, he had visited five temples, including the Dwarkadeesh temple and the hill-top Chotila shrine.
Gujarat Congress spokesman Manish Doshi had earlier said that his party was "deliberately projected as anti-Hindu" by the BJP and the RSS. He had said Gandhi's visit to various temples during his tour was aimed at countering the "hardline Hindutva" campaign of the BJP and the RSS.
The Congress leader is scheduled to visit some more temples in the state.