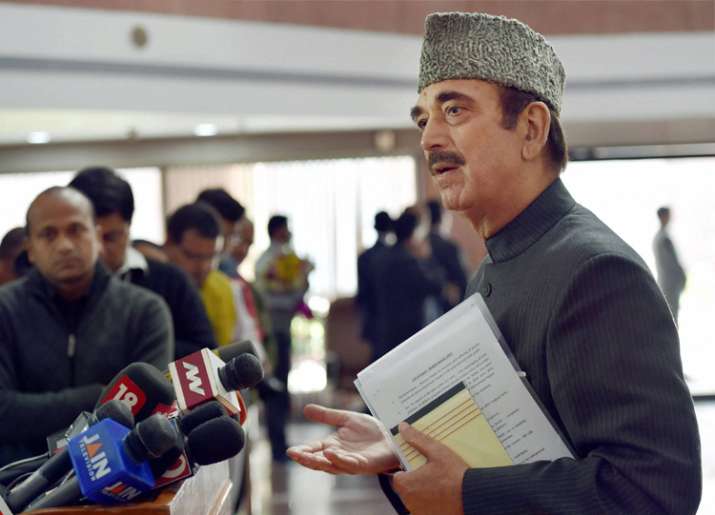 Congress today said the Economic Survey 2016-17, tabled in the Parliament on Tuesday, reflects the "sorry state" of Indian economy and the government is unable to find short or long-term solutions to the problems faced by it. 
Citing the Economic Survey, Leader of Opposition in the Rajya Sabha Ghulam Nabi Azad said the industrial growth rate has gone down from 7.4 per cent in 2015-16 to 5.2 per cent in 2016-17 and the GDP growth is being projected at 6.5 per cent in the current fiscal. The International Monetary Fund (IMF) has already projected it at 6.6 per cent.
"The Economic Survey says that the indirect taxes have increased by 34.8 per cent with excise duties growing by about 68 per cent and direct taxes by 10 per cent. But our assessment is increasing indirect taxes was because of hike in petroleum duty," he added. 
Azad also said the number of railway accidents have increased manifold in the past two years.
"Indian economy is in doldrums and a downwards trajectory on account of massive mismanagement and misdirected experimentation of Modi government," Congress chief spokesperson Randeep Surjewala said. 
In a statement, he said the Modi government is clearly unable to inspire confidence in the private sector to borrow, invest, expand and grow. 
"Lack of financial acumen and understanding of Indian economy's strength and fault lines by Prime Minister Narendra Modi and his team have led to the sorry state reflected in 'Economic Survey' of falling exports, vanishing jobs, reduction in credit growth, depleting capital formation and massive downslide in demands and corporate sales. 
"Clearly, the Economic Survey proves that Modi government is clueless in finding a short or long term solution to these yawning problems faced by India's economy," he said. 
Surjewala said the downward spiral predicted for the economy stands vindicated by the BJP government's Economic Survey released by the Chief Economic Adviser today.
"Demonetisation has crushed India's economy wiping away the huge domestic demand and capacity of the common man to purchase and consume," he said. 
The Congress leader said the Economic Survey has lowered GDP growth forecasts to 6.75 per cent by admitting that there may be a further downside due to demonetisation. 
"The monumental blunder of demonetisation has struck a decisive blow on India's growth prospects, causing a massive loss to the economy of at least Rs 1.5 lakh crore in the interim, which is what a 1 per cent reduction in annual growth 
is worth. 
"The human cost, in terms of lost income, livelihoods and opportunities is much higher. Is PM Modi not responsible for this devastating loss of lives, income and GDP?" he asked. 
Surjewala said the Economic Survey seeks to submit an apology by speculating on the "possible benefits" of demonetisation and exposes the "falsehood" that it omits demonetisation from the list of Modi government's successes. 
"Just like when demonetisation was proved a human and economic disaster, Prime Minister Modi shifted the goalpost to a cashless economy; the Economic Survey preposterously states that the aim of demonetisation was to lower real estate prices!," he said. 
The Congress spokesman also raised the issue of Economic Survey making a renewed case for RBI transferring Rs 4 lakh crore to the government. 
"It suggests that this be used either to address NPAs and stressed assets or to retire a portion of the national debt. 
This shows how the government continues to be a 'suit-boot' Sarkar as it tries to salvage the NPAs of its corporate cronies using public money. This is the real intent of PM Modi which stands exposed," he said. 
Surjewala alleged that "this is not the supposed windfall that was expected from the RBI after demonetisation but one, which did not materialise. This is the RBI's capital, which it deploys to stabilise the rupee as also our economy".
Earlier in the day, Congress vice-president Rahul Gandhi alleged that the government has been a "complete failure" on job creation front. 
"The main question in India today is creation of jobs for young people. It is a big issue today to provide jobs for youth in India," Rahul said outside Parliament after President Pranab Mukherjee's customary address on the first day of the Budget session of Parliament.