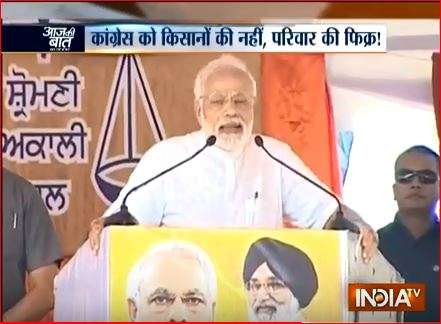 Prime Minister Narendra Modi on Wednesday launched a sharp attack on the Congress party and accused it of betraying farmers and using them as the vote bank to further the interests of "one particular family".
Despite toiling hard, farmers had to live a life of despair and despondency for decades because of the policies of the Congress-led governments, said PM Modi at a public meeting -"Kisan Kalyan Rally" (farmers' welfare rally) - at Malout in Punjab. The rally was held to mark the unparalleled rise in Minimum Support Price (MSP) for Kharif crops announced by the Centre recently.
In an indirect attack on the Gandhi family, PM alleged the grand old party was "only for one particular family" and how to make them comfortable.
"Congress only made promises to the farmers, its concern was only for a particular family and how to make them comfortable," PM Modi alleged and added that the NDA government at the Centre is working towards changing this scenario.
"For farmers, they made several announcements, but the Congress saw only one dream -- how to benefit one particular family. Entire nation knows this truth very well," he said. 
He said Malout connects Punjab with Rajasthan and Haryana. "I am happy that farmers in large numbers from Rajasthan and Haryana have reached here. In a way, Malout is witnessing Kumbh of farmers today," he said. 
Reaching out to the farmers, PM said he salutes the way they have been filling granaries with record production in the past four years and be it wheat, paddy, cotton, pulses or sugar, all previous records are being broken.
PM Modi also spoke a few lines of his speech in Punjabi. He said that be it defending borders or ensuring food security, Punjab had always inspired the country.
The meeting was attended by leaders from the SAD and the BJP, including Haryana chief minister Manohar Lal Khattar, former Punjab chief minister Parkash Singh Badal, SAD chief Sukhbir Singh Badal and Union minister Harsimrat Kaur Badal.
Watch: Congress used farmers as vote bank, betrayed them, says PM Modi
(With PTI inputs)