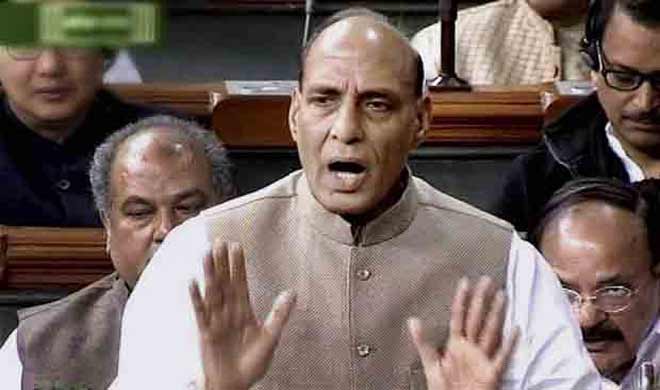 New Delhi: Union Home Minister Rajnath Singh today said in Lok Sabha that Congress itself is to blame for political instability in states like Uttarakhand and Arunachal Pradesh.
 
Rejecting Congress party's allegations of BJP deliberately toppling its governments in the two states, Rajnath Singh wondered as to how Congress could accuse BJP of toppling governments in view of the fact that the party itself had dismissed 105 governments when it was in power.
"If any party has an old habit of toppling a popular government, it is not the BJP but the Congress. The Congress has dismissed 105 elected governments in this country. How can they accuse us?" Rajnath Singh asked.
Singh reminded Congress that the political crisis erupted in these two states because the Congress could not keep its flock together.
"The unfortunate crisis in Uttarakhand happened only because of internal rift in the Congress. Nine Congress MLAs had opposed its own government. In Arunachal Pradesh, the BJP didn't try to break the government but the Congress leaders showed no-confidence in their government," Singh added.
Rajnath was replying to charges levelled by Mallikarjun Kharge, Congress leader in Lok Sabha, who accused BJP of hatching conspiracies to topple its governments in Uttarakhand and Arunachal Pradesh.  
"If your boat has a hole, then it will definitely sink. You can't blame the water," Rajnath Singh reminded Congress in an indirect reference to rebellions in the party in these two states.