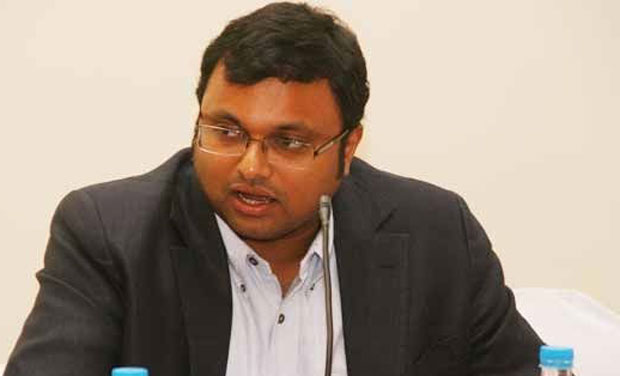 In a candid admission, former Union minister P Chidambaram's son Karti Chidambaram on Monday admitted that most of the political parties in India, including Congress, are family-owned enterprises which have shut the door for aspiring politicians.
According to a report in Times of India, Karti Chidambaram pointed out that newcomers have no other option that to praise their leaders to get noticed in the organisation.
"Most of the regional and national political parties, including Congress, have become private family properties and are beyond redemption. Thus, a newcomer who is interested in joining politics will not fit into any of these parties as he would have to praise the head or other leaders in the party," Karti Chidambaram said while speaking at a function in Chennai organised by Generation 67 (G67) to commemorate 50 years of Dravidian rule in Tamil Nadu.
Karti blamed all political parties for favouring only family members of its leaders and pointed out that they never invited achievers like Google CEO Sundar Pichai or an IIT topper to contest elections.
"Has any political party invited people like Google's Sundar Picghai or an IIT topper to contest elections? Whether it is Congress, BJP, DMK, AIADMK, or any other political party in the north, all are family-controlled and an outsider has no chance," he added. 
Interestingly, Karti Chidambaram made these remarks despite the fact that he himself has been a beneficiary of this system.
In 2014 Lok Sabha polls, Congress fielded Karti Chidambaram from Sivaganga, the traditional parliamentary constituency of his father P Chidambaram. 
P Chidambaram represented this constituency seven times between 1984 and 2009.
Karti, however, failed to retain the seat for the Congress in 2014 parliamentary elections and even lost his deposit.