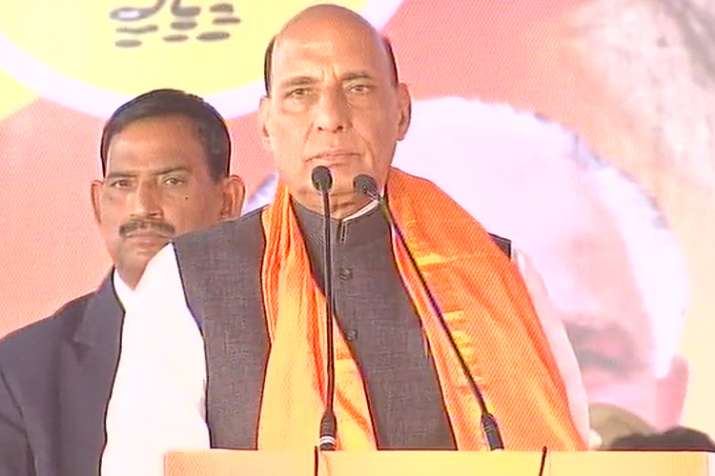 Focusing on the upcoming 2018 Assembly elections in Karnataka, Union Home Minister Rajnath Singh on Sunday appealed to the people of the state to support the formation of a Bharatiya Janata Party (BJP) government under the leadership of B S Yeddyurappa. 
Addressing a 'Parivartan Rally' in Bengaluru, Rajnath while praising the former CM said, "We want to empower Karnataka, and this will be possible when, in two to three months, a BJP government will be formed here. The BJP will contest in the upcoming assembly elections in Karnataka under B. S. Yeddyurappa Ji's leadership." 
Congratulating the newly-elected president of the Congress party, Rahul Gandhi, Rajnath accused the grand old party of igniting disorder and turmoil in several states, including Kashmir. 
"I want to congratulate him (Rahul Gandhi) but also ask- did the fire of communalism, terrorism and naxalism in India erupt due to BJP's policies? Did fire erupt in Kashmir due to BJP's policies? If someone formed governments by setting fire, it is Congress. BJP is trying to douse the flame," said Rajnath. 
He further accused the Congress and its leadership in the state of indulging in corruption. Rajnath alleged that the grand old party is indulging in 'divide and rule' in the state and is causing communal disharmony by involving caste and other related factors. 
"Congress government here wants to divide Karnataka community to rule. I received information that even though there is no regulation in the constitution, Muslim community here was befooled with reservation which was later out ruled by the Court," said Rajnath.
"The government here created such an issue over Tipu Sultan. I do not want to dive deep into history, but I have to ask: Why is there no celebration for Kempegowda, Kittur Rani Chennamma or Sir M. Visvesvaraya? Why only Tipu Sultan?" he added. 
Rajnath also lashed out at the present state government over the inaction in the murder case of senior journalist Gauri Lankesh, claiming that it a BJP-led state government is formed, miscreants will not be spared, and laws would be more stringent. 
"Paresh Mesta was recently killed. Gauri Lankesh was killed. What is this government doing in these murder cases? I want to assure Karnataka public that when our government is formed, we will probe her death from all angles, and culprits will be punished. We won't save anyone," he said. 
Rajnath Singh also hailed the initiatives taken under the leadership of Prime Minister Narendra Modi, claiming that India is no longer considered weak, and is now a superpower that can question. 
"If not for the BJP and Prime Minister Modi, the Doklam issue would not have been resolved. China too has understood that diplomatic ties have to be maintained. On the Indo-Pakistan border, our forces are strongly retaliating against attacks, as was seen during the surgical strike last year. We will not fire first, but if someone fires at us, we will not sit back," he said.