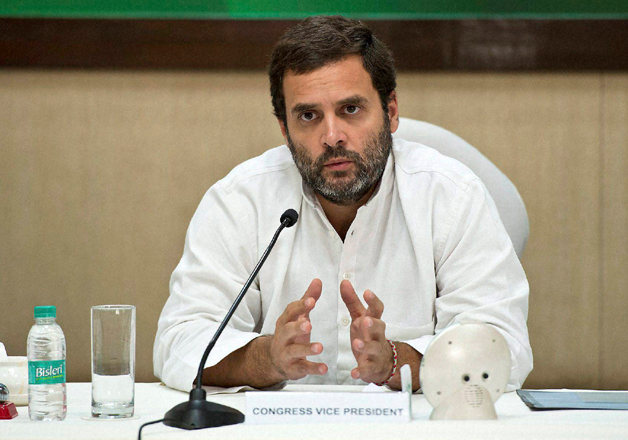 Principal opposition party, the Congress has blamed the ruling BJP-led NDA government for 'growing intolerance and jobless growth'.
In a resolution adopted at the Congress Working Committee (CWC) meeting here on Monday, the party said that it was deeply concerned and alarmed over the continuing and deliberate attack on the judiciary's independence. 
The highest decision-making body of the Congress said it associated itself with the concerns of the citizens and the media over growing intolerance, centralisation of authority, arbitrary and partisan decisions, abuse of power and misuse of government agencies to target political opponents, critics and institutions.
"(The CWC) warns the government that its undemocratic methods and acts to curtail liberty and freedom of expression and violation of Fundamental Rights of the citizens as enshrined in the Constitution will be strongly resisted," the CWC resolution said. 
The party also said that it will continue to fight the 'communal agenda of the BJP and the RSS'.
It said the Congress will champion the cause of the poor and the marginalised with greater vigour. 
"The Congress will continue its struggle to expose the communal and divisive agenda of BJP-RSS (Bharatiya Janata Party and Rashtriya Swayamsevak Sangh) and reactionary forces and the failures and the double-speak of the Modi government," the resolution added.
It said the people were reeling under price rise and the economy was struggling and not surging. 
"Key parameters of the economy -- investment, savings, gross fixed capital formation, credit growth, capacity utilisation, merchandise exports and job creation -- are in sharp decline."
The CWC resolution said the government was trying to hide behind one figure of Gross Domestic Product growth but there is widespread doubt about that number because it is not compatible with other verifiable data available in the public domain. 
The Congress said the Modi government came to power on the promise of creating two crore jobs annually "but its policies have created a situation of jobless growth".
"Tens of thousands of jobs have been lost in labour-intensive export sectors and manufacturing," the opposition party said. 
The party alleged there had been an escalation in atrocities on the Dalits, tribals and minorities and the government was apathetic towards farmers and agricultural workers. 
There is "acute distress" in the agrarian sector and a large number of farmers had been forced to commit suicide, the Congress said. 
"It is a matter of deep regret that the government remains a silent and indifferent spectator."
With IANS Inputs