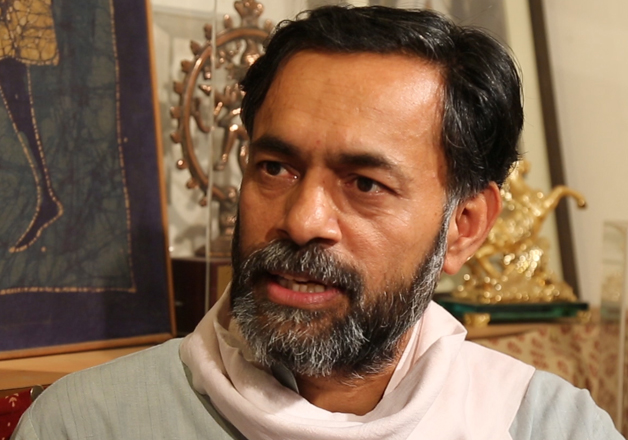 Former Aam Aadmi Party (AAP) leader and founder of country's newest political party, Yogendra Yadav, today accused the Narendra Modi government of being the 'biggest challenge' to the values of democracy and diversity.
Explaining the rationale behind Swaraj India, the new political party he has founded along with lawyer Prashant Bhushan, Yadav said that the country needs a new (political) party to defend the idea of India.
"Our country is founded on some basic principles -- a democracy in which every citizen can have a voice, celebration of diversity and a development that brings well-being to the last person," Yadav said. 
He said that all 'existing parties have let the country down' and added that his party renews the 'Idea of India'.
Noting that the country's grand old party Congress and other parties were not fundamentally different from the Bharatiya Janata Party (BJP), he said, "The Modi government represents the biggest challenge to these values. But the Congress and other parties... don't provide a genuine alternative... That is why we need Swaraj India."
When asked is Swaraj India, launched on October 2, directed against the AAP, Yadav replied, "Our party is not directed against any one party. If anything, we are against the political establishment. Ever since Swaraj Abhiyan was formed (18 months ago), less than 10 percent of our energy has been directed against the AAP and its Delhi government." 
"We have campaigned on questions of land acquisition, drought, loot of common man's savings by banks to benefit corporate houses and against criminal-politician nexus. None of these major campaigns had anything to do with the AAP," he added.
Yadav, who along with some others was forced out of the AAP following differences with its leader Arvind Kejriwal, said he does not see the AAP figuring very prominently on their horizon. "We are for a new vision, new policy prospective, new ideology."
An election specialist, Yadav said the new political outfit had inherited ideological boxes from socialists, Communists, Gandhians, feminists, greens and Ambedkarites.
"We wish to learn from all of them, we wish to build on their positive legacy without squandering our energy on petty bickerings.
"We are exploring a new ideology for the 21st century. For us, Swaraj is an umbrella concept that brings together the ideological heritage of the 20th century and makes it relevant to the 21st. We do not worship any one book, any one thinker or any one ism.
"For us, the starting points are the key principles embedded in our constitution," Yadav said.
Commenting on AAP's rule in Delhi, he said the national capital was in a sorry state but the AAP alone could not be blamed for it.
"I think the MCD governed by the BJP, the Delhi government of AAP and the Lt Governor controlled by the central government must all share equal blame for the mess in Delhi."
He said Swaraj India was the first political party to put itself under Right to Information (RTI) to ensure transparency. "We have decided not to use the whip against our legislators except in the case of a no-confidence motion... We want to move away from the personality cult," Yadav told IANS.
He said Swaraj India's electoral intervention would be selective. "We are not going to contest every election everywhere. We are not going to use all kinds of means to win at all costs.
"Our electoral intervention will be selective and principled. We shall contest only in places where we have a critical mass."
With IANS Inputs