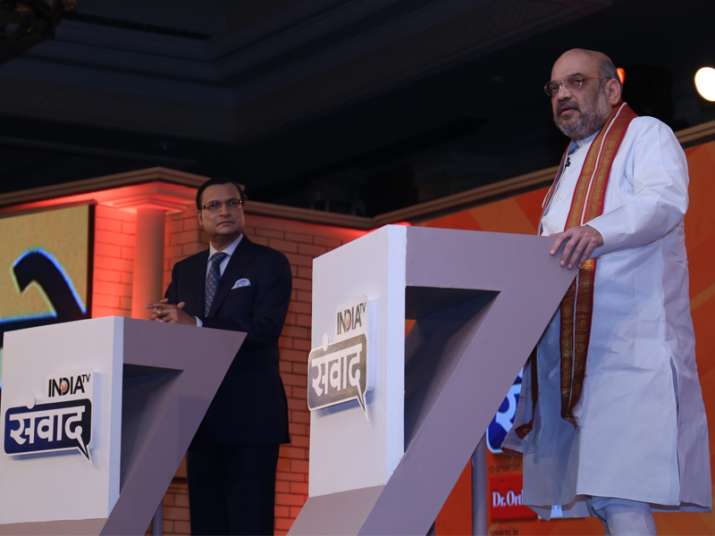 Bharatiya Janata Party (BJP) president Amit Shah today exuded confidence of the NDA candidate's win in the upcoming presidential election slated to be held before July 24 when the term of incumbent President Pranab Mukherjee will end.
"I am sure that NDA's candidate will win in the presidential election," Shah told India TV Editor-in-chief Rajat Sharma at the day-long 'Samvaad' conclave organised to assess the performance of the three-year-old government.
As per the current statistics, the BJP-led NDA will need support of any one of the non-NDA parties to ensure its victory in the presidential election. The party's prospect of getting its candidate elected to the top Constitutional post was cemented after it emerged victorious in recent assembly polls held in in Uttar Pradesh and Uttarakhand. 
Shah further said that the 'NDA government under PM Narendra Modi's leadership has taken several initiatives in last three years to bring 'achhe din' (good days) and the country is close to it'.
"Ache din have arrived or not, it will be decided by people. But I can say that in last three years my government has sincerely worked for bringing ache din and we are close to it," he said.
The 'achhe din' slogan was coined by Modi ahead of 2014 Lok Sabha polls with the intention of conveying that a prosperous future was in store for India if the BJP came into power. 
I can't evaulate #Modi ji's sarkar through #Lalu ji's vision: @AmitShah at #IndiaTVSamvaad #ShahAtIndiaTV pic.twitter.com/ZtwQVkISxq

— India TV (@indiatvnews) May 15, 2017
Shah further rejected claims of EVM tampering in elections levelled by many opposition parties. 
"Opposition's theory of EVM tampering is baseless," Shah said.
When quizzed about the reasons behind BJP's mega wins in recent polls, Shah said, "The BJP has changed the dynamics of politics after storming to power in 2014. Now people are voting on the basis of performance. Politics of performance… We are winning elections because of our performance. People have rejected the caste or religion based politics. Parameters have changed now."
"Yes, we have lost few elections, but your voting percentage have only grown – be it in Bihar or Bengal or Kerala," Shah quickly added.
On demonetisation drive, Shah said that the decision has helped banks to improve their financial health.
He also claimed that demonetisation has severely hit the source of terror funding.
Ask me how much #BlackMoney we brought back after a year: @AmitShah on at #IndiaTVSamvaad #ShahAtIndiaTV pic.twitter.com/ak6x1YlI2t

— India TV (@indiatvnews) May 15, 2017
On Sukma attack he said, "Naxals will not telephone you before attacking. Such incidents are unpredictable. They (Naxals) are disrupting the development works."
On Kashmir crisis, the BJP president assured that the government was serious on the matter and peace will prevail in the Valley.
"Have faith in the Narendra Modi government, peace will prevail in Kashmir. Indian Army has avenged the killings of barbaric attack on our jawans. The surgical strike has changed the world's perception of India," he said.
"Political will is needed to take strong decisions. Our forces are fully capable of dealing with the situations," Shah added.
He further denied aspersions that the PDP-BJP government had failed in the border state.
"We are a responsible government and it is our duty to improve the situation in Kashmir," he said, adding that 'there can't be any fixed timeframe' and that it was a fight that he was sure of winning. 
"The government is minutely monitoring the situation in Kashmir. The government is regularly meeting intelligence and other officials," Shah said.
When asked to clear the BJP's stand on scrapping the Article 370 in the Valley, he said, "Merely by scrapping Article 370, the Kashmir problem can't be resolved. It is a debatable issue and has many other facets."
To a question on the opposition burying their differences to take on the Modi government in 2019 general elections, Shah said, "33 parties of NDA met recently. They all exuded confidence in Modi's leadership. We will win more seats in 2019."
Shah further assured the gathering that the law will take its course in incidents related to cow vigilantism. He also rubbished reports of providing a 'political shield' to anyone.
Shah also reiterated the government's promise of doubling the income of farmers by 2022.
"The government has taken several initiatives to improve the condition of farmers, to empower them. I assure you that by 2022, the income of farmers will be doubled," he said.
I assure our country's citizens that by 2022, we will double the income of our #farmers: @AmitShah on #LoanWaiver at #IndiaTVSamvaad pic.twitter.com/ixjlWfNeez

— India TV (@indiatvnews) May 15, 2017
On the contentious issue of triple talaq, the BJP president said, "I want to clarify that the issue of triple talaq is not to scare any one. This fight (triple talaq) is for the rights of Muslim women."
Highlighting the government's decisions that directly benefited the poor, he said, "All schemes are of the Government of India, not of any particular party. What do you want? You want schemes launched by Congress should be closed by the BJP? Congress had spoken about DBT, but they failed. We delivered it successfully. There is a big difference between what you say and what you work."
He was responding to questions on why the BJP-led government had chosen to continue with the schemes that were started by other governments in states and the Centre despite criticising them when in opposition.
Shah also sought to assure the public that the law and order situation in the state of UP had improved and that the newly elected CM Yogi Adityanath would deal with offenders with an iron hand. 
"500 riots happened during Samajwadi Party's regime. Riots happened… but how many people were killed? You can't question the law and order situation in UP now. CM Yogi has assured that law and order situation be restored," he said.
Shah ended the discussion with a rather long list of schemes launched by the Narendra Modi government.
"Three years ago, when we stormed to power, people were unemployed, women were depressed, there was a situation of policy paralysis. 
"In last three years, we have delivered a strong government, a transparent government. No corruption charges are levelled against us. We have improved the economic situation. Indian economy is fastest growing economy in the world today. We formed OBC Commission, 104 satellites were launched…. 
"All villages will be electrified by 2018, 5crore LPGs connections will be distributes by 2019, two crore have already been distributed. We have cracked down on shell companies…. 91 lakh new tax payers were added."