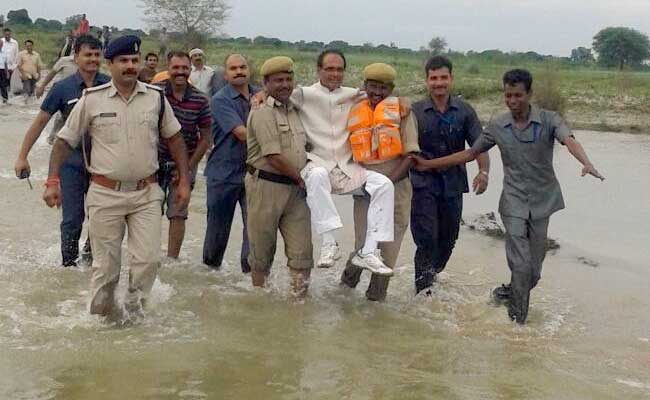 Madhya Pradesh Chief Minister Shivraj Singh was on Sunday caught on camera, being carried by two policemen during his visit to the flood-hit areas of Panna district in the state,
The image went viral on social media sites with many questioning the need to carry the minister in only the ankle-deep water.
The chief minister had gone there to take stock of the flood situation but instead himself became a laughing stock because of the image as Twitterati made fun of him.
There was another pic in which Chouhan was seen walking barefoot through mud while his aide is seen carrying his white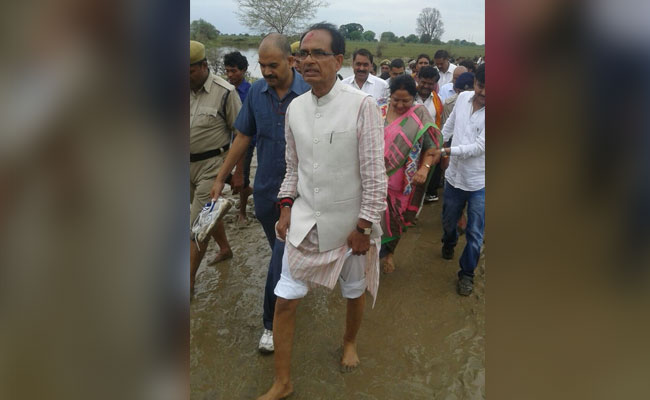 According to reports, Chouhan was carried as there was water in the nullah and the collector and the local police chief decided that they could not risk the chief getting hurt or being bitten by snakes.
The Chief Minister has so far visited flood affected Rewa, Satna and Panna districts. The floods in the BJP-ruled state have already claimed 17 lives.  Altogether, 4,500 people have been rescued but heavy rainfall is expected tomorrow.
The CM's invoked  various reactions from Twitteratis, here are a few of them.
Chief Minister had a narrow escape but people are circulating doctored pics pic.twitter.com/rrAWBXGEHD

— Rahul Roushan (@rahulroushan) August 21, 2016
MP CM Shivraj Singh Chouhan: "Chalo floods dekhne jaate hain!"
*arrives*

"Guys, yeh mera favourite white pant hai." pic.twitter.com/ojFk9nOvRw

— José Covaco (@HoeZaay) August 21, 2016
कभी खाना बांटा, कभी गोद में सवार हुए शिवराजhttps://t.co/4wX5WNaGce pic.twitter.com/2KGgdPaT3y

— ETV Bharat Hindi (@Eenadu_Hindi) August 21, 2016
Return of British Raj in MP!CM Shivraj Singh Chouhan crossing a small water body while inspecting flood hit areas! pic.twitter.com/rsGMNAwFEq

— Neeta Sharma (@NEETAS11) August 21, 2016
India is a third-world country because we elected third-class, uncouth leaders! #ShivrajSinghChouhan pic.twitter.com/kJgiPzPdIW

— Ram Subramanian (@VORdotcom) August 21, 2016
Confounded - Has CM Shivraj Chouhan gone to save flood-affected or is being rescued himself. Judge for yourself: pic.twitter.com/0Sl2BkxAHf

— Randeep Singh Surjewala (@rssurjewala) August 21, 2016
Chief Minister of MP doing ariel survey of flood hit areas after civil aviation ministry denied chopper.(2016) pic.twitter.com/bBLzGnXxxI

— History of India (@RealHistoryPic) August 21, 2016
Pictures from the sets of Jeetendra biopic. pic.twitter.com/od4xgb136q

— Arnab Ray (@greatbong) August 21, 2016