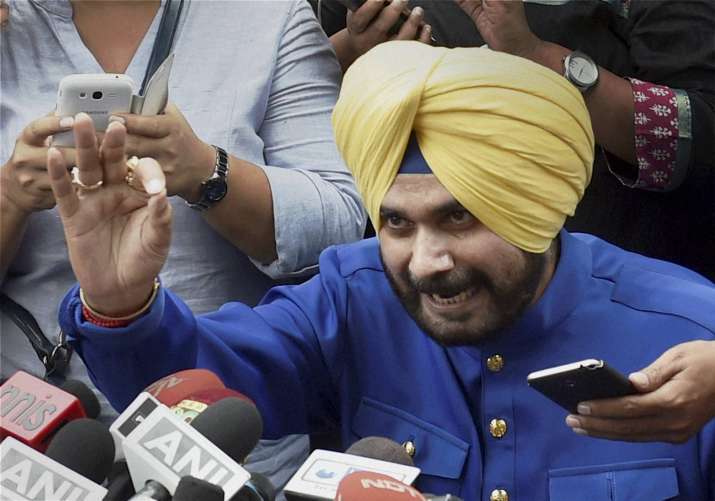 Former BJP MP Navjot Singh Sidhu's much-touted entry into the Aam Aadmi Party (AAP) seems to have been put on hold, due to some unacceptable conditions that the former BJP parliamentarian is trying to impose on the Arvind Kejriwal-led party. Sidhu, who resigned from the Rajya Sabha around weeks ago, is still negotiating his induction into AAP.
Two conditions set by the cricketer-turned-politician have put the AAP in a quandary. It is learnt that Sidhu, who quit the Rajya Sabha last month after being asked to stay away from Punjab by the Bhartiya Janata Party, has demanded that he should be made AAP's chief ministerial candidate for the Punjab elections. 
He has also demanded a ticket for his wife Navjot Kaur Sidhu which is against the constitution of AAP. As per the party's constitution, two members belonging to the same family cannot simultaneously be office-bearers or contest polls.
On August 13, when Sidhu met Delhi Chief Minister Arvind Kejriwal, it was speculated that he would join the party on that day itself. But Sidhu's terms have not been met yet and this has left uncertainty over his induction into the party, sources said. 
The AAP is not willing to make an announcement regarding Sidhu's role at the time of his joining nor commit anything to Sidhu and his wife. The party is insisting that Sidhu be made a star campaigner and is unrelenting on bending its rule of 'only one ticket per family' for the duo. 
The 52-year-old former cricketer, who had a long innings with the BJP in Punjab, alleged that the party had asked him to stay away from Punjab to serve "personal interests".
AAP is giving a tough fight to the ruling BJP-SAD alliance and Congress in Punjab, and is hoping to cash in on Sidhu's popularity to bolster its chances in the state election. 
Sidhu has had a running feud with the Akalis, who have accused him of "opportunism". They have said that "fugitive" leaders like Sidhu have no place in state politics and people will teach him a lesson.