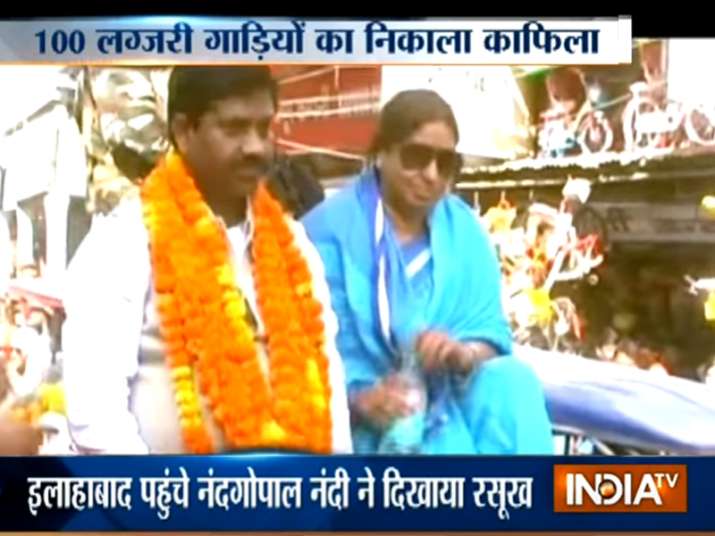 What happens when the richest minister in the Yogi Adityanath cabinet returns to his constituency in his first visit after winning elections? Going by the Chief Minister's advice to his ministers and officials, strictly business. 
However, barely days after the Uttar Pradesh CM cautioned his ministers over the use of red beacon and asked them to get down to work in all seriousness, a minister from his Cabinet instead chose to arrive to a hero's welcome to Allahabad – leaving normal life and traffic in the town in complete disarray in the process. 
Here is how it went down in Allahabad this Friday. 
Nand Gopal Gupta, Minister of Stamp and Civil Aviation in the BJP-led government in the state, arrived in Allahabad from Lucknow Friday afternoon. The minister's helicopters first landed at the airport. From here, Nand Gopal was scheduled to go to the Police Ground, which is just 5 km away.
However, the minister chose to fly to cover the 5 km distance. 
As soon as his helicopter landed at the Police Ground, his supporters went berserk. The crowd broke through the barricades and surrounded the helicopter to greet the leader. 
Police personnel, who were on duty, faced a harrowing time controlling the crowd and security officials had to struggle to escort the minister to his vehicle. 
The horror for the personnel did not end there as the minister then embarked on a road-show with a convoy of 100 luxury cars resulting in heavy traffic congestion in the city. The situation came to such a pass that the movement of traffic in the city came to a complete standstill for nearly 3 hours. 
More than 300 loudspeakers were also installed across the city. 
Nand Gopal won from Allahabad South constituency, defeating his nearest SP rival Parvez Ahmad.
Nand Gopal is also the minister with the highest declared total assets in the present government. As per information provided by him in the election affidavit, Nand Gopal has assets worth Rs 57.11 crore.