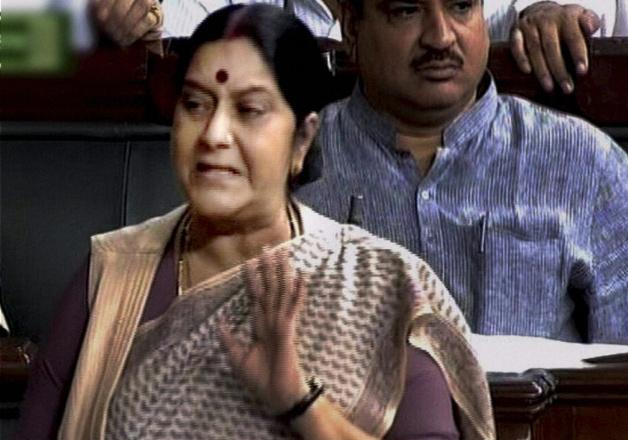 New Delhi: External Affairs Minister Sushma Swaraj today admitted that China had raised procedural hurdles to India's bid for an entry into the Nuclear Suppliers' Group and said that the government is hopeful of persuading China to drop its opposition.
In a statement on the matter in the Lok Sabha today, Swaraj said that the government had made all efforts to gain an NSG membership and that there was no hype created around it.
Swaraj further clarified that India would never sign the Nuclear Non-Proliferation Treaty (a condition set forth by China and others to join the NSG), adding that New Delhi had managed to get waiver in 2008 without signing the treaty.
"If someone does not agree to something once, it doesn't mean that they will never agree to it. We are continuing our efforts in engaging with China on this issue," Swaraj said.
She also rejected opposition's taunts after New Delhi failed to join the 48-nation group that looks after critical issues relating to nuclear sector.
"The efforts of a government should not be termed a hype. We never created any hype. If some people call the government's sincere efforts as hype, then it is not right. We submitted our application for the membership of NSG on May 12. We did it with low fanfare," she said.
Swaraj also scoffed at suggestions by NCP's Supriya Sule that the denial of NSG membership to India was a 'huge diplomatic snub' as it came after Prime Minister Narendra Modi's visit to Mexico and Switzerland.
The Minister said Mexico supported India's bid and when the decision did not go in New Delhi's favour, Mexico asked the group to decide again on the issue.
Asserting that Indian diplomacy has made its mark, she said earlier people used to ask whether India can make it to the NSG.
"Now when India will become a member is the question being asked," she said in the presence of the Prime Minister.
Responding to a question on the benefits of getting NSG membership, Swaraj said India will then become part of "rule making" from its current position of being a "rule taker".
She said though India has not signed the NPT, it is following the commitments made when it got the waiver in 2008. Swaraj also credited the previous UPA government for getting the waiver and said while the UPA government followed the commitments, the present government is following the same since it came to power in 2014.
She said membership of the NSG would enable India to have enhanced and uninterrupted access to nuclear technology, fuel and material required for expanding its civil nuclear programme.
"It would create a predictable environment for large investments required for setting up nuclear power plants in India, inter alia, to meet India's Intended Nationally Determined Contribution (INDC) pledge of 40 per cent of its power capacity coming from non-fossil sources by 2030," she said.
Last month, China and few other nations had blocked India's entry into the NSG saying New Delhi has not signed the NPT. The United States, UK, France and most of the members had, however, backed India's bid.