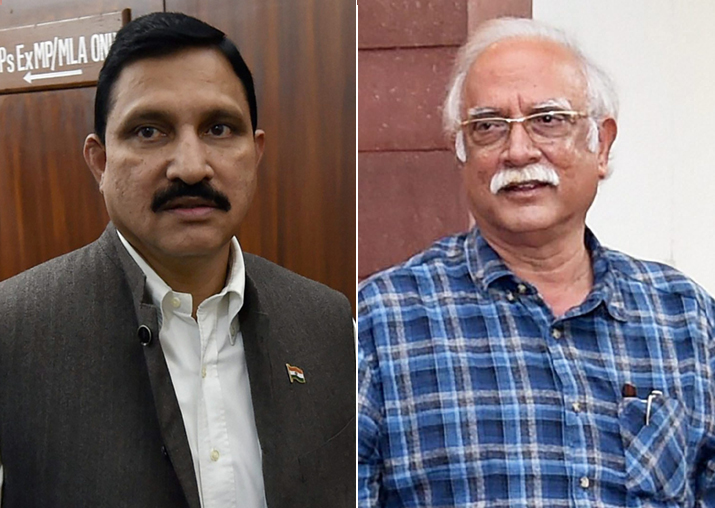 The TDP on Thursday quit the Modi government, with its ministers P. Ashok Gajapathi Raju (Civil Aviation) and YSChowdary (Science and Technology) submitting their resignations.
The two ministers drove to Prime Minister Narendra Modi's residence and handed over their resignations in accordance with the party's decision to resign over the TDP's charge that the Centre was not granting special status to Andhra Pradesh. 
As it happened on Thursday:
# Ashok Gajapathi Raju told reporters that his party (TDP) will continue to part of the ruling alliance. 
Union Minister and TDP MP YS Choudhary's resignation letter to PM Narendra Modi pic.twitter.com/qDeS2yHOfA

— ANI (@ANI) March 8, 2018
Aviation Minister and TDP MP Ashok Gajapathi Raju's resignation letter to PM Narendra Modi pic.twitter.com/DXFbagSzWs

— ANI (@ANI) March 8, 2018
6:20 pm: TDP ministers Ashok Gajapathi Raju, YS Chowdary resign from Union Cabinet
Delhi: The two TDP MPs in the Union Cabinet, AG Raju & YS Choudhary leave after meeting Prime Minister Narendra Modi. pic.twitter.com/xXYV3OLc4t

— ANI (@ANI) March 8, 2018
AP CM Naidu explained to the PM about reasons leading to central ministers' resignation & TDP withdrawing from Union Government: TDP Sources

— ANI (@ANI) March 8, 2018
5:45 pm: TDP ministers Ashok Gajapathi Raju, YS Chowdary arrive at PM residence (7, Lok Kalyan Marg) to meet Modi
4:50 pm: Prime Minister Narendra Modi speaks to Andhra Pradesh CM Chandrababu Naidu. The two TDP ministers in the Union Cabinet to meet PM Narendra Modi at 6 PM today.
# BJP rejects TDP charges that the Modi government neglected the state. Party spokesperson GVL Narsimha Rao says, "Centre has offered all benefits without giving this (special status) tag." 
3:05 pm: Telangana BJP spokesperson Krishna Saagar has said that the TDP's decision to exit the NDA government at the Centre is a "classic case of opportunistic politics" by its president and Andhra Pradesh Chief Minister N Chandrababu Naidu. "BJP considers it as a classic case of opportunistic politics by Chandrababu Naidu. It's also politics of convenience. In 2018, one year before the elections again, he (Naidu) withdraws conveniently. The very reason for his withdrawal is to ensure that the BJP does not grow by itself and acquire equity, politically, in Andhra Pradesh."
3 pm: The TDP has demanded special status. We are discussing with them....Unfortunately, YSR Congress and other parties are indulging in all sorts of false propaganda, spoiling the political atmosphere in the state and putting pressure on Chandrababu Naidu: Union Minister Ananth Kumar
2:30 pm: Nitish's govt has been demanding Bihar's special status for long & we've got a special package which is monetarily as beneficial as special status. But, despite this some people aren't satisfied & to them I will just say that India can only grow in NDA's regime: Ram Vilas Paswan, Union Minister 
# Demand of special status to Bihar is a unanimous decision of the state assembly. Our demand is still active. Bihar development is our prime focus: JD(U) spokesperson Neeraj Kumar
1:58 pm: We have one whole year for elections, so let's see how things shape up. Just like our CM said, Congress and BJP have been given a lot of chances to run this country and they have not lived up to expectations: Telangana minister KT Rama Rao
1:56 pm: This country is not about two parties, India is not a bipolar country. It has a multi-party system and a strong regional party network too. There is good possibility of a third alternative or it could be the only alternative: Telangana Minister KT Rama Rao 
1:40 pm: Let us not get confused. When the state of Andhra Pradesh was made, the people did not want to be treated as a residue material. There were some assurances made. UPA government made some commitments, now these commitments are the questions: Ashok Gajapathi Raju
01:30 pm: We are asking for an appointment with the prime minister, not for having a discussion about this problem, but to handover our resignations and thank him for allowing us to work in his team, says Ashok Gajapathi Raju
11:55 am: Other parties who are sympathetic to our cause have also started protesting on various issues but in support of us. Next step is coming out of the Cabinet: TDP's Jayadev Galla
11:45 am: PM Narendra Modi to meet TDP ministers at 4 pm.
11:15 am: What Arun Jaitley said yesterday is not good. You are holding hand of the North Eastern states but not Andhra Pradesh's. You are giving industrial incentives to them, not to Andhra Pradesh. Why this discrimination?: Andhra Pradesh CM N Chandrababu Naidu in state assembly
11:11 am: Our ministers in central Cabinet and BJP ministers in our Cabinet have resigned. However, these ministers worked good in the state. They brought considerable reforms in their departments. I thank them for their services: Andhra Pradesh CM Chandrababu Naidu in state assembly 
TDP MP CM Ramesh arrived at the Parliament wearing t-shirt with 6 demands for the state of Andhra Pradesh printed in it. #Delhi pic.twitter.com/F5K7qmGgkO

— ANI (@ANI) March 8, 2018
10:50 am: BJP's Dr Kamineni Srinivas and Pydikondala Manikyala Rao resign as ministers from Andhra Pradesh Cabinet 
10:40 am: The ministers, who have submitted their resignation, are State Health Minister Kamineni Srinivas and State endowment minister Pydikondala Manikyala Rao in N. Chandrababu Naidu's cabinet.
10:30 am: Whenever you seek time from PM Modi and BJP president Amit Shah, they meet. If all states demand special status it would become very difficult for the government: Union Minister Ramdas Athawale 
10:42 am: What crisis? This is like match fixing. They are still pretending to withdraw (from the alliance). What would happen if 2 ministers resign? If you are serious do it seriously: Congress' Renuka Chowdhury on Andhra Pradesh
10:40 am: Our two ministers in the government will be resigning today. No one from AP was willing to bifurcate, all resources related to generation of employment were in Hyderabad, bifurcation was not done in an unscientific way, injustice done with Andhra Pradesh: TDP's Srinivas
10:29 am: It is not good that TDP has decided to breakaway from with NDA. Want to appeal to Andhra Pradesh CM N Chandrababu Naidu that he must think over this decision once again for development of people of Andhra they should stay with NDA: Union Minister Ramdas Athawale
09:15 am: It is not a good move but unfortunately due to unavoidable circumstances we're stepping down as ministers. Our president said that we will continue to be a partner of NDA. We are most likely to meet PM also, says TDP minister YS Chowdary.
Decided that our ministers will resign from TDP Cabinet. We will be going to the people & telling them all the things Centre has done for the state. Since independence till date, no state has received as many favours as that were given to #AndhraPradesh: PVN Madhav, BJP MLC pic.twitter.com/wsXt6O4mNp

— ANI (@ANI) March 8, 2018
09:10 am: Meanwhile, the Telugu Desam Party chief said he tried to speak to PM Modi as a "courtesy" to inform him about the decision to quit but he did not come on line. "As a courtesy & being a responsible senior politician, I tried reaching out to Prime Minister to inform about our decision. He was unavailable," Naidu said.
08:30 am: Addressing reporters at an emergency meeting, Naidu said, "This is the first step. We will go ahead with other actions later. We have been raising the matter since the day of budget. But Central Government did not respond," he added.
08:15 am: The Andhra chief minister said, "We have shown patience for 4 years. I tried to convince the Centre by all means." "Arun Jaitley's statement was the last straw. They are apparently predetermined. They don't appear to help the state," he added.