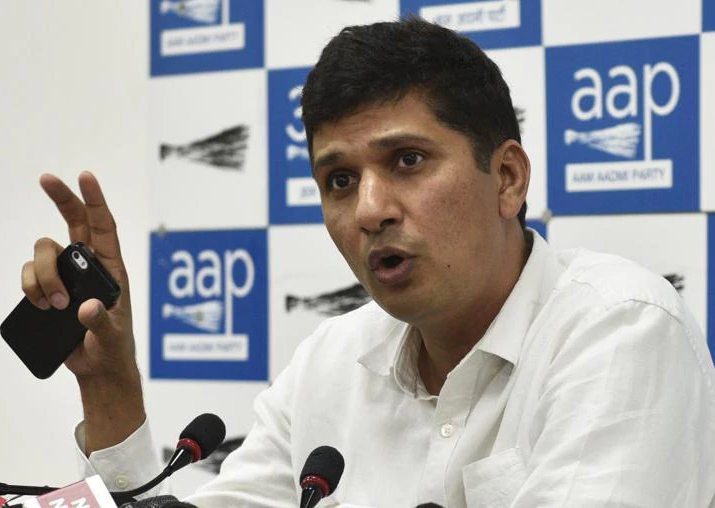 Reacting to the Election Commission's decision to recommend disqualification of its 20 Delhi MLAs, Aam Aadmi Party (AAP) leader Saurabh Bhardwaj today alleged  that the Election Commission was acting at the behest of the BJP. 
Speaking to media after EC's recommendation to disqualify 20 AAP MLA in Delhi, Saurabh said that the Chief Election Commissioner AK Joti was "returning favour to PM Narendra Modi for appointing him". 
"AK Joti, whose term ends on Monday, is only returning the favour to Prime Minister Narendra Modi for appointing him," he said.
The AAP leader added that the electoral body has hit 'a new low' and that it hadn't give the MLAs a chance to present their case.
He even termed the EC's decision a 'conspiracy' against the AAP.
"AK Jyoti, CEC is Gujarat cadre IAS officer. He will retire on Monday (Jan 23). He did not hear 21 MLAs even once on merits," he said.
There is no credible information. All reports are based on sources. I want to ask if people from constituencies of these 21 MLAs have seen them utilising government facilities like car, house or salary.No hearing has been held before EC until now: Saurabh Bhardwaj,Aam Aadmi Party pic.twitter.com/C8oCFObB2L

— ANI (@ANI) January 19, 2018
"EC should not be the letter box of the PMO (Prime Minister's Office)...but that is a reality today... (A) person like me who has covered EC as reporter during (ex-EC chef TN) Seshan days, today I can say EC has never touched so low ever. Sad," AAP leader Ashutosh said in a tweet.
Meanwhile, the AAP has approached Delhi High Court contesting Election Commission's recommendation to disqualify their 20 MLAs in Office of Profit case.
Earlier this afternoon, the ECI had recommended to the President the disqualification of 20 MLAs for allegedly holding Office of Profit. 
In its opinion sent to President Ram Nath Kovind, the Election Commission said by being parliamentary secretaries, they held office of profit and were liable to be disqualified as MLAs of the Delhi Assembly.
According to the Government of National Capital Territory of Delhi Act, 1991, Delhi can have one parliamentary secretary, attached to the office of Chief Minister. 
However, CM Arvind Kejriwal, in March 2015, had passed an order to appoint 21 MLAs as parliamentary secretaries for "smooth functioning of the Delhi government".