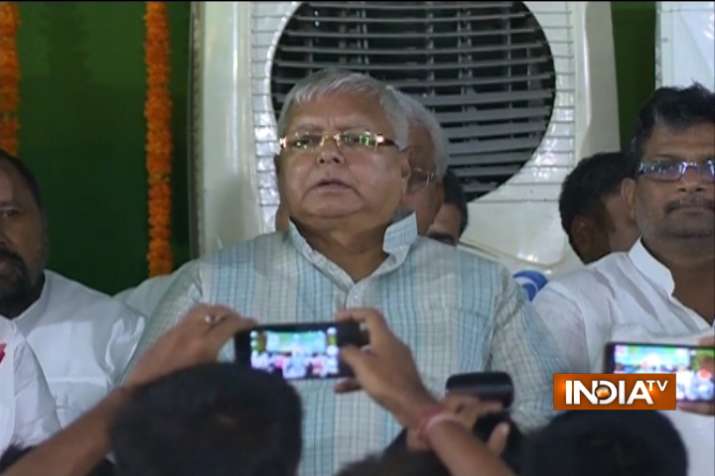 The CBI is presently carrying out raids at 12 locations of RJD supremo Lalu Prasad Yadav and his family members in connection with alleged irregularities in awarding tenders of IRCTC hotels at Ranchi and Puri in 2006 when Lalu was the Railways Minister. The CBI raid are being conducted at the premises of Lalu Prasad, his wife Rabri Devi and their son Tejaswi Yadav.The twelve locations where raids are being conducted include Delhi, Patna, Ranchi, Bhubaneswar and Gurugram.
The CBI registered a case against Lalu Prasad and six other people on July 5 in connection with the alleged irregularities related to IRCTC hotels in Ranchi and Puri in 2006. 
The case relates to alleged irregularities in tenders allotted to a private company Sujata Hotels for development, maintenance and operation of BNR hotels, heritage hotels of Indian Railways,  at Ranchi and Puri.
Gurugram: CBI team at residence of former IRCTC MD PK Goel in connection with Railway hotel tender case pic.twitter.com/JPer29NMlr

— ANI (@ANI) July 7, 2017
The six other people are - former Bihar CM and Lalu's wife Rabri Devi, his son Tejashwi , PK Goyal, a former managing director (MD) of the Indian Railway Catering and Tourism Corporation (IRCTC),  Sarla Gupta, the wife of one of Lalu's close aides Prem Chand Gupta, Vijay Kochar and Vinay Kochar (both directors of M/S Sujata Hotels Pvt Ltd, owners of Chanakya Hotel)
ANI EXCLUSIVE: CBI FIR copy in Railway hotel tenders case, names Lalu Yadav, wife Rabri,son Tejaswi and others pic.twitter.com/hbLcGiKCuv

— ANI (@ANI) July 7, 2017
The BNR Hotels are heritage hotels of the Railways which were taken over by the IRCTC from the public transporter earlier in the same year. 
Addressing a press conference after the raids, CBI Director Rakesh Asthana said that the agency had registered a case against Lalu Prasad Yadav, his wife Rabri Devi, their son Tejashwi Yadav and others in this case on July 5.
Raids started at 7.30 am today and are continuing at different locations: Rakesh Asthana,CBI on Railway hotel tenders case pic.twitter.com/4Y1IEqmXwX

— ANI (@ANI) July 7, 2017
Dhokadhadi aur saajish ka case hai. Puri aur Ranchi hotels ke aavantan mein gadbadi: Rakesh Asthana,CBI

— ANI (@ANI) July 7, 2017
The CBI Director said that the case relates to irregularities in allocation of hotels in Puri and Ranchi.
"It's a case of cheating and hatching conspiracy," he said.
Lalu Prasad was Railways Minister between 2004-09.
Lalu Prasad Yadav, who is presently in Ranchi to appear in a fodder scam case, said that he will speak on today's CBI raids later today.
Ranchi: Lalu Prasad Yadav leaves for court to appear in fodder scam case, says will speak on today's CBI raids later today pic.twitter.com/w5BNZLrPSf

— ANI (@ANI) July 7, 2017
Reacting to the CBI raids, senior BJP leader Sushil Kumar Modi said that  Nitish Kumar should break his silence and sack Deputy CM Tejashwi Yadav from his cabinet.
Nitish Kumar should break his silence and sack Tejashwi Yadav as deputy CM: Sushil Modi, BJP on CBI FIR in Railway hotel tender case pic.twitter.com/dsOvc8DXw1

— ANI (@ANI) July 7, 2017
Denying charges of vendetta, Union Minister M Venkaiah Naidu said that the govt or party has no role in CBI raids on premises of Lalu Prasad and his family.
"The law is taking its own course, the govt or party has no role in it," Venkaiah Naidu said.
It is alleged that Yadav as Railway Minister handed over maintenance of two Railway hotels BNR Ranchi and Puri to Sujata Hotel (a company owned by Vinay and Vijay Kochhar) after receiving a bribe in the form of prime land of three acres through a benami company. 
The FIR alleged that Lalu Prasad Yadav as railway minister abused his official position for extending undue favours to Kochhars, acquired a "high value premium land" through a benami company Delight and as a quid pro quo, dishonestly and fraudulently managed award of leasing BNRs at Ranchi and Puri to the company of Kochhars.
 
The CBI has registered the case against Lalu Yadav, his wife Rabri Devi, son Tejashwi Yadav, now Deputy CM Bihar, Sarla Gupta, wife of Prem Chand Gupta, former union minister.  
Others named as accused in the FIR include Vijay Kochhar, Vinay Kochhar, both directors of Sujata Hotels and owner of Chanakya Hotel, Delight marketing company, now known as Lara Projects and the then Managing Director P K Goel. 
 
In 2001, a decision was taken to handover management of catering services of Indian Railways, including its hotels to IRCTC. 
Two such hotels namely BNR Hotels in Ranchi and Puri were also identified and a MoU was signed between the Railways and IRCTC on March 19, 2004. 
Lalu Yadav, the then railway minister, entered into criminal conspiracy with owners of Sujata hotels, Sarla Gupta, wife of his close associate Prem chand Gupta (an RJD MP in Rajya Sabha) and IRCTC officials for "undue pecuniary advantage to himself and others", the CBI FIR alleged.  
It is alleged that Vinay Kochhar on February 25, 2005 sold commercial property in the form of three acres of land in Patna through 10 sale deeds for Rs 1.47 crore to Delight marketing in which Sarla Gupta was a director as a front benami holder on behalf of Lalu Prasad Yadav.  
The FIR alleged that the land was sold to the company at a price which was below circle rates and market rates and was falsely shown as agriculture land to evade substantial stamp duty. 
It was disclosed during the preliminary enquiry of the CBI that the land was sold by the Kochhars to Delight and the payment for the same was arranged "surreptitiously" by the company in the form of investment of Delight through Ahluwali contractors and its promoter Bikramjeet Singh Ahluwalia.  
"On the day when the sale deeds were  executed by the Kochhars in favour of DMCL on February 25, 2005, the Railway Board on the same day informed IRCTC about its decision for transfer of BNR hotels to IRCTC on "as is where is basis", the FIR alleged. 
The BNR hotels were transferred to Sujata Hotels through a rigged and manipulated tender process managed by P K Goel, the then MD IRCTC, the CBI alleged. 
The CBI enquiry shows that Railway sought bids for developing, operating and maintaining Rail Ratna Hotels on September 16, 2006. 
To "restrict" competition for BNR hotels in Ranchi and Puri, the IRCTC officials issued a corrigendum making a reference about commencement of sale for bid documents for BNR hotels, it alleged. 
The conditions were further tweaked through another corrigendum in order to make Sujata Hotel contender for the bid, the agency alleged.
 
The CBI has alleged that Yadav, as Railway Minister, was aware about the whole process and was keeping a track of the tender proceedings.
 
It surfaced while over 15 bid documents were received for both the hotels, IRCTC has no records of bidders other than Sujata Hotels. 
It is also alleged that with an intention to render undue pecuniary gains to Sujata hotels, bid of another hotel was deliberately and unreasonably given low marks under technical evaluation. 
"As a result, Sujata Hotel remained the only bidder in financial evaluation and was qualified," it alleged. 
 
After the tender was awarded to Sujata Hotel, the ownership of Delight marketing also changed hands from Sarla Gupta to Rabri Devi and Tejaswi Yadav between 2010 and 2014.  By this time Lalu Prasad Yadav had demitted the office of Railway Minister. 
The value of property which was sold by Kochhars to Delight Marketing at 1.47 crore in 2005 had spiralled to Rs 32.5 crore as per circle rate and Rs 94 crore as per market rate. 
"The shares of a company having a networth of Rs 32.5  crore was transferred by the family member of P C Gupta to the family members of Lalu Prasad Yadav for a nominal amount of Rs 64 lakh," it alleged.
BJP welcomes CBI raids against Lalu Yadav and his family
The BJP has welcomed CBI raids on RJD chief Lalu Prasad's residence and 12 other places over a fresh case of alleged irregularities in awarding tender for the maintenance of hotels.
The Central Bureau of Investigation carried out raids at 12 places in Patna, Delhi, Ranchi, Puri and Gurugram in connection with the case involving Lalu Prasad and his family members.
"It is right time for (Bihar Chief Minister) Nitish Kumar to end his party JD-U's alliance with the RJD and should sack Lalu's two sons from his cabinet without delay," Bharatiya Janata Party state president Nityanand Rai told IANS here.
Rai said "politics" will change in Bihar after the CBI raids.
Leader of opposition Prem Kumar told the media here that Nitish Kumar should act against Lalu's two sons.
"Our stand has been vindicated, Lalu and his family is corrupt."
For nearly three months, BJP leaders have repeatedly alleged corruption charges against Lalu and his family members. It was alleged that Lalu had accumulated Rs 1,000 crore illegal property.
The CBI has registered the case against Lalu; his wife and former Chief Minister Rabri Devi; Tejaswi Yadav; former Indian Railway Catering and Tourism Corporation (IRCTC) Managing Director P.K. Goyal; and the wife of Lalu's confidante Prem Chand Gupta, Sujata on allegations of awarding the tender for development, maintenance and operation of hotels in Ranchi and Puri in 2006.
In the same year, the hotels were transferred to the IRCTC.
(With agency inputs)