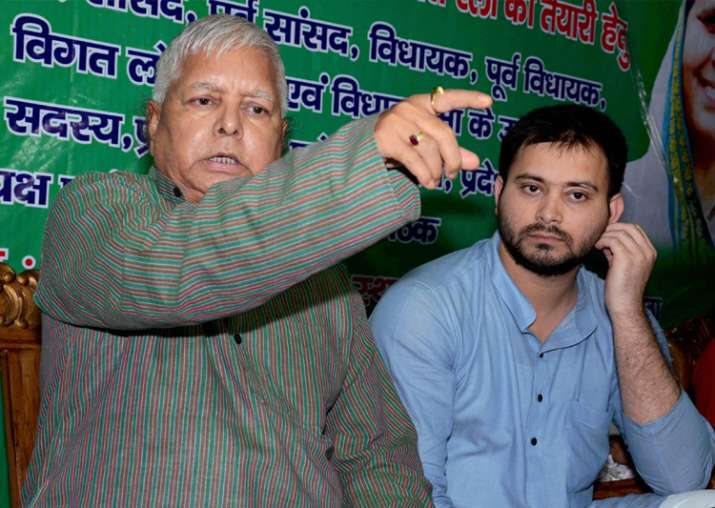 RJD chief Lalu Prasad today termed the lodging of a corruption case against him and CBI searches at the premises his family members as a 'BJP conspiracy' and 'witch hunt' and claimed he was innocent.
"BJP wants to silence everyone who goes against it. The party wants to create a monopoly in India," he said. 
Reacting to the CBI's charges, Lalu said that he took over as the railway minister on May 31, 2004 and all the decisions about handing over of the hotels were taken before that. "So the government of the day, the Atal Bihari government, must respond to CBI's charges," he said.
"This is a BJP conspiracy. The raid is a witch hunt. There is no illegality. I have done nothing wrong. I am open to any probe by the CBI," said Prasad, who appeared before the special CBI court here in two fodder scam cases.
The former railway minister was reacting to CBI's searches at 12 locations in Ranchi, Patna, New Delhi and Gurgaon, after registering a corruption case against him and his family members including his son, Deputy Chief Minister of Bihar Tejashwi Yadav.
Prasad said that he would unite the opposition against BJP and go ahead with the Patna rally on August 27. "The BJP and the RSS are conspiring against me and my family for speaking against them. But they will not be able to do any harm to me as I have not done anything wrong," he said.
 

"This is a political conspiracy of Narendra Modi, Amit Shah and RSS against us because we have initiated a political movement against them, and they will soon see a farewell...On August 27, we are holding rallies in Bihar to tell the people how myself and my family are being attacked due to political vendetta." 

 
The CBI alleged that between 2004 and 2014, a conspiracy was hatched in pursuance of which BNR hotels of Indian Railways at Puri and Ranchi were first transferred to the IRCTC and later on for its operations, maintenance and upkeep, it was given on lease to a Patna-based private firm. Prasad, however, denied the allegation. 
"No wrong was done in the tendering. IRCTC was formed in 1999, it started functioning in 2002 when NDA was ruling. The hotels of railway in Delhi, Ranchi, Puri and Howrah were handed over to IRCTC in 2003," the RJD supremo said.