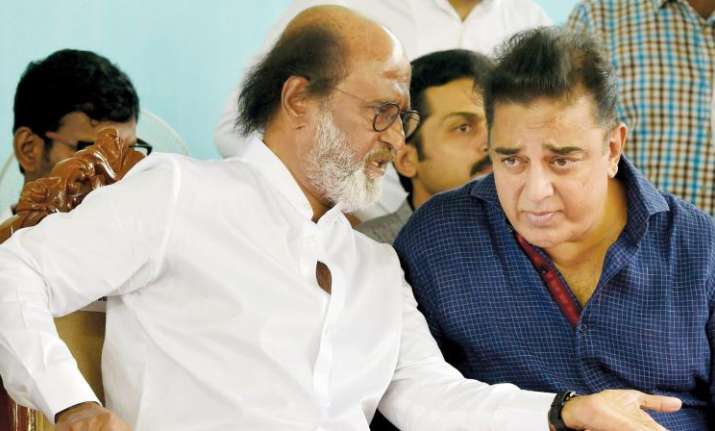 Days after Tamil leader TTV Dhinakaran urged cricket lovers to shun IPL matches in Chennai in support of Cauvery Management Board, superstars-turned-politician Rajinikanth voiced similar sentiments. 
Rajinikanth today shared dais with Kamal Haasan and top Tamil actors, including Dhanush, Vijay and Surya in Chennai to protest the delay in the setting up of the Cauvery Management Board by the centre, as directed by the Supreme Court.
Moments before starting for the venue, Rajinikanth told reporters that holding the Indian Premier League matches in the state at a time the state was holding protests to demand constitution of the board was an "embarrassment". He asked that players, as well as spectators from Tamil Nadu, be allowed to wear black badges to register their protest.
Blaming the Centre for dragging its feet, Rajinikanth said the Modi government would earn Tamil Nadu's wrath if the board isn't constituted on an urgent basis. "There has already been a delay," he said.
The artists are expected to sit in protest at Chennai's Valluvar Kottam, a popular point for protest meets and demonstrations, till 1 pm. Sathyaraj, Sivakumar, Nassar, Vishal, Karthi and Sivakarthikeyan also joined the protest.
Chennai: Rajinikanth, Kamal Hassan and Dhanush take part in protest over demand for formation of #CauveryMangementBoard pic.twitter.com/HCY7RTiGLv

— ANI (@ANI) April 8, 2018
Several parts of Tamil Nadu have been witnessing continuous stirs, including rail blockades, by political parties and other outfits for setting up of the Cauvery Management Board. 
Protesters are demanding the CMB be set up at the earliest to implement the Supreme Court's February 16 verdict on water allocation among the riparian states. 
The apex court though had reduced Tamil Nadu's share of Cauvery water, it had allowed it to extract 10 tmcft groundwater from the river basin to tackle its pressing need for the drinking water. 
In Thanjavur, members of the Cauvery Rights Retrieval Association (CRRA) blocked rail traffic, affecting services for some time. Two express trains were stopped by the protesters. 
In a different incident, an agitation was staged near the post office by another outfit. Cadres of an ultra-Left outfit at Tircuhirapalli held a rally over the Cauvery and defaced the Tamil name board of the Hindi Prachar Sabha. 
They also allegedly burnt BJP flags.
Farmers and cadres of a pro-Tamil outfit also held a protest separately. 
In Chidambaram, Tamizhaga Vazhvurimai Katchi, which is also opposed holding IPL matches, held a "rail-roko" demonstration. 
The CRRA in Mannargudi held a protest and in Nagapattinam, volunteers of actor Vijay's fan club staged a protest at the seashore. 
In Dharmapuri, Amma Makkal Munnetra Kazhagam leader TTV Dhinakaran held a protest demonstration. 
Opposing IPL matches over the Cauvery, Nam Tamizhar Katchi leader Seeman said Tamil Nadu was in no mood for a cricket match in view of agitations for the CMB. 
He asked the organisers to either postpone it or hold the match elsewhere. 
"If they still choose to hold it, we will lay a siege and not allow anyone to enter the stadium," he told reporters in Nagore. 
Actor-turned-politician Vijayakanth's DMDK was also among the political parties which held protest demonstrations. 
The DMK-led opposition parties had staged a bandh demanding setting up of CMB in the state on Thursday. 
(With inputs from PTI)