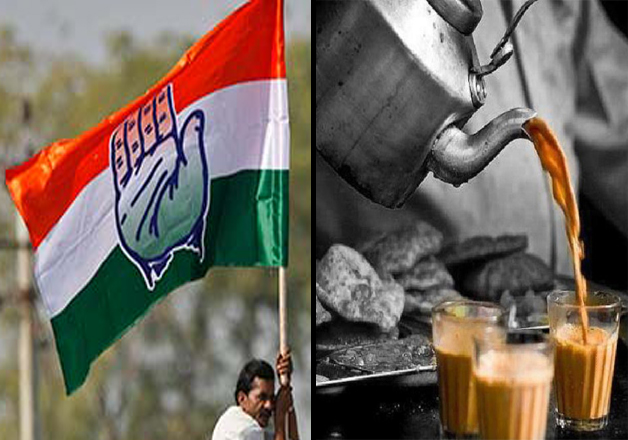 India's grand old party, which ruled the country for decades and has been out of power for over two years now, is faced with an acute cash crunch as it is finding it difficult to clear the dues of a neighbourhood chai-wala, who has now refused to supply the daily beverage on credit to the party's office in Mumbai. 
According to a Times of India report, Inder Joshi, who runs a small tea stall behind the headquarters of Mumbai Regional Congress Committee (MRCC) at Azad Maidan, has claimed that the Congress party has an outstanding balance of Rs 2 lakh. 
"My family has been running the shop here for decades. They [the Congress] have not paid us since a long time and we have now stopped providing them tea on udhari (on credit). However, I know they will pay us eventually. They always do," Times of India quoted Joshi as saying. 
Interestingly, while Joshi was speaking about the party's dues, a Congress worker tried to place for "the people in cabin no 2", to which he replied in a denial mode by saying, "Cash first, please". 
Joshi is the most preferred chai-wala among party functionaries and supporters and is also famous for his Gujarati sweets. 
Meanwhile, MRCC president Sanjay Nirupam accepted that the party was yet to pay the tea vendor. 
"The issue of pending payment was brought to my notice a few weeks ago. The carelessness of one of our functionaries resulted in the dues. We had to pay the tea vendor Rs 4 lakh and we have already settled half the bill," Nirupam said. 
"He makes good tea and he should have been paid. He was not paid for nearly four months. We will settle the bill soon," he added.

 

Nirupam further said that there is a tea machine in the office, but most party members don't like the tea it dispenses.

 

Another Congress leader admitted that the party was facing a cash crunch. 
"Our party makes fun of Prime Minister Narendra Modi, who once worked as a tea seller. But here we don't have money to clear the chai-wala's bill," he said. 
Earlier in July, it was reported that the party is short of funds and has decided to run a "low-cost" campaign for next year's BMC elections.